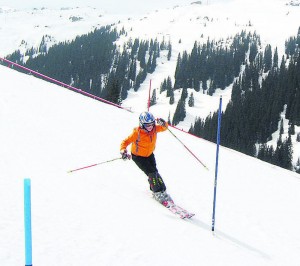 Isabel O'Leary, aged 12, from Churchtown, has been selected to represent Ireland in Alpine skiing (slalom and giant slalom) at a prestigious international competition, the Borrufa Cup, which takes place in Andorra next week.
Ireland is sending a team of 7 athletes ranging in age from 11 to 14, and Isabel is delighted to have been chosen for this event in which she will be making her international debut. The races will be the start of her international ski racing career.
Isabel began skiing at the age of three 3 when she lived in Germany and started racing at seven. On her return to Cork in 2007 she and her sister Claire (who has repre-sented Ireland on numerous occasions) joined the race squad in the Ski Club of Ireland in Kilternan, Dublin. They go to Dublin every weekend for training with their coach. Isabel also trains with ski acad-emies in France and Aus-tria and has just returned from a training session in Austria.
It is a huge honour to rep-resent your country in an international event and Isabel is proud and hon-oured to have been selected. She has already been club champion on numerous occasions and twice came in the top 10 at the British Grand Prix series in the UK snow-domes. In 2011 she com-peted in France and Switzerland, coming in the top 20 on both occasions. She will fly to Andorra today, Thursday, to train for a couple of days before the big event and is looking forward to donning her Ireland jacket and carrying the Irish flag at the opening ceremony on 22nd Jan-uary.
Isabel would like to thank her sponsors and all the well-wishers who have contributed to her training costs and helped her to achieve international selection for Ireland. She is also proud to be the only athlete from outside Dublin on the team!