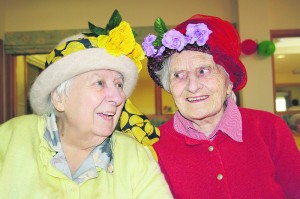 Style and creativity are not solely the preserve of the young, as proved by the young at heart residents at Brídhaven who will be celebrating this Easter with a mad hatter's tea party. Since spring first began to unfold with colourful buds and new life, residents have enjoyed afternoons spent at leisure, both indoors and out. On finer days they stroll about the garden, gaining inspiration before designing and crafting their own Easter bonnets, each with individual flair and imagination. 
The Mad Hatter's Tea Party is much anticipated by the residents who will model their spring and Easter-themed creations while sipping tea and enjoying delicate sand-wiches, cakes and scones
At Brídhaven, varied social activities are an integral part of daily life for the residents. The activities are as diverse as the people themselves. Regular act-ivities include Monday morning arts and crafts, coffee mornings, computer classes, spa mornings, classic movies on Sunday afternoons, birthday parties and weekly Mass.  Throughout the Easter weekend there will be family visits and of course plenty of chocolate! Easter Sunday Mass will be celebrated at the home for those wishing to celebrate the religious aspect of the feast day, with family members or friends more than welcome to attend.