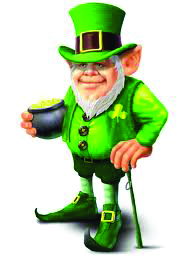 by Fidelma Fitzgerald
The morning of St. Patrick's day had once again come around as quick as St. Patrick moved those snakes from our isle. And quickly he did this for our precious green, and magical 3 leaf clover. The 17th March a proud day for Irish blood. Luckily for brothers Shaun and Patrick today was to be a day of flying it green twice. The celebrations of the annual parade and this morning's cup final. The Wild Foxes under-16s drove forward for Newcastle West, against The Ballymullen Braves from Tralee. This was a match not to be missed and one that had the pasture under all boots to be blessed with 3 leaf clovers decorating the edge of the pitch. The morning was pure Irish wherever your eye wondered.
Kick off, whistle blew 10am up the ball went and on with the talent and courage of youth. Backs forwards and mid-fielders were a roar with passion for each other to bring the cup home. Whose was it to be, the wild foxes that held the great talent of brothers Shaun and Patrick. Or was it to be the Ballymullen braves that were suiting up for some future Croke Park players for Kerry. The magic of Patrick's day is one that happens every year. It finds its way throughout the day. Fairies and leprechauns, wee little stone men. The gathering of mighty folk at the call of a spell.
Half-time was shouted the whistle blew to a still. The boy's got to their dresser and cautioned each other well.
The Wild Foxes 2-12 the Ballymullen braves 3-2. The clock was ticking, the cup was shining, the passion was burning and celebrations heard from all round. Shaun and Patrick, we will say did not exactly cheat that day. Yet they held special powers that many would say. The power of nature and kindness, the power of love and friendship the power of brotherhood and youth. This was all sprinkled with the teardrops of early morning dew that carried magic and they had it when needed to use. So here we are, a day of music and dance and the Wild Foxes firing to raise up the cup. Time was drawing close. The Ballymullen Braves were beginning to boost when the score drew to a draw after sweat tears and screams ran raw. 3-3 to 3-3 "ohhhhhh blast it boys, this can't be," roared Shaun from midfield, before he kicked out he looked at the crowd, whistled for his brother ready to take cover, "Patrick" he shouted "this cup is ours," when The Ballymullen Brave jumped high and tucked to run and score, both Patrick and Shaun looked up at the billboard and between them they drew a look of tearful morning dew, and down fell the staff of St. Patrick's right hand and knocked that goal ball straight over the wall.
Patrick smiled and winked at Shaun, Shaun winked back and drew on a yawn. "Well boys tis a draw and we will say no-more till we meet again at next week's throw." There was acceptance all round that the weather got involved (wink wink nod nod) to those that know better. The ones that have Magic everywhere. A win win all round some would say on this very magical special St. Patrick's Day.