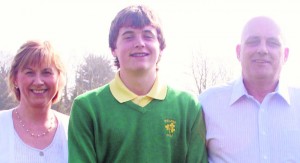 Mallow Golf Club are delighted to announce the selection of James Sugrue for the Irish Boys U16 team for the upcoming Quadrangular Inter-nationals which will be taking place in Belfast on 5th to 7th April. James is a current member of Mallow Golf Club's successful U18 Fred Daly team who were crowned Munster Champions in 2011 and are travelling to Spain today, Thursday 29th March to represent both province and country.
James is the youngest son of the well known Sugrue family – Mick and Margaret Sugrue run the very successful electronics business in O'Brien Street. James has been a juvenile member of Mallow Golf Club since the tender age of 6. The club has always had a strong juvenile sec-tion with an importance placed on coaching and the skills of the game. Michael Collins has over-seen James' continuing progress. No doubt the selection of James for the Irish team will give great encouragement to the new crop of young golfers who are currently working with Graham Conway, under the guidance of Sean Conway, our resident professional.
James first came to prominence when he was nominated for the County Coaching panel at 11 years of age. This promise was further emphasised when in June 2009, aged 12, he came 3rd in the Munster Boys U15 Amateur Open. This won him his place on the Cork U14 team which won provincial honours. By 2011 his exploits at schools level were recognised when he was awarded the Junior Sports-man of the Year Award at the Patrician Academy.
He has combined his team achievements with notable individual performances, not only in his own age group but also at U18 level in the highly competitive Kerry Boys Open where he finished 2nd out of 150 entrants. This, along with his other performances, was rewarded by selection on the Munster Boys U15 interprovincial team where James won two of his matches against opponents from Leinster and Connacht.
In September 2011 James was notified of his selection for the Irish Boys U16 panel. Following monthly coaching sessions under Irish coach Noel Manchip he has impressed sufficiently to be selected on the Irish Boys U16 team for the Four Nations Tournament where England, Scotland and Wales will provide opposition.
Everyone at Mallow Golf Club extends to James our warmest congratulations on his selection and we wish him a very successful tournament.