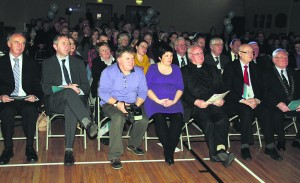 Young people, parents, members and clergymen of the diocese of Cloyne were on hand to see Crystal Swing officially launch the John Paul II Awards in front of a packed Mallow Community Youth Centre on Tuesday. The awards were launched in conjunction with CDYS Youth Work Ireland. The award was created to commemorate the late Pope John Paul II who was so committed to young people and who had such belief and confidence in them. It is open to young people aged 16 to 18 who take part in activities through parish involvement and social awareness.
Special guest Archbishop Dermot Clifford spoke about the Holy Father's visit to Ireland back in 1979. "I had the privilege of being present in Galway on that memorable day  when when over three hundred thousand young people of Ireland exploded into clapping, cheering and singing. It went on for fifteen minutes before the Holy Father could finish his homily."
He continued: "Less well remembered were his words, 'I believe in youth, I believe in youth with all my heart'. I think that it is most fitting that these awards for young people who are outstanding in their participation in the life of the Church and this local parish and community should be called after Pope John Paul II."
If you would like to know more about the award please contact CDYS Youth Work Ireland Youth Minister Bernadette O'Connor on 086 8031126.
Persistence
launch new album
CDYS would like to congratulate our young rock group Persistence for a great night of entertain-ment where they launched their debut album last Saturday before a large crowd in the Youth Centre. This band has been involved with the CDYS music project for the past two years and has gone from strength to strength. They were supported by other talented bands and solo artists from this very successful youth project on the night. If you are a teenager interested in music and would like to take part, call into the Youth Centre on Mondays between 4 and 6pm to find out more, or contact Miriam@cdys.ie.  CDYS would like to thank all the volunteers who helped on the night, especially Johnny (Bongos) Horgan who ensured that it ran so well.
Bingo
The CDYS bingo continues this week with the jackpot reaching €1,400. Doors open on Sunday night at 7.30pm.