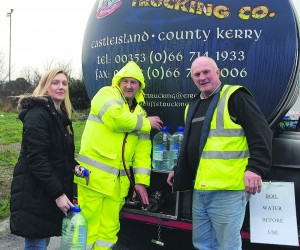 Limerick County Council has joined forces with the Health Service Executive and the Environment Protection Agency in a bid to restore normal water services to homes in parts of West Limerick. Water restrictions, now in their sixth day, are in place on the water supply to 1,500 households in Shan-agolden, Foynes, Askeaton, Ballysteen, Creeves and Kilcornan areas as the County Council with the assistance of two environ-mental pollution firms car-ry out a clean-up operation in the River Deel. A considerable amount of kerosene entered the waters last Thursday evening.
Limerick County Council has established a helpline, 061 496493 which will operate today Wednesday from 9.30am to 4.30 pm.
Limerick County Council has put nine tankers in place providing fresh drinking water. Water tankers are being provided at the following loca-tions:  Askeaton (the public swimming pool, com-munity centre, church car park, Twohig's SuperValu and the Kingspan Factory); Ballysteen (outside the church); Foynes (Corgrigg Housing Estate, public car park near the children's playground); Shanagolden (Main Street); Kilcornan (burial ground).
Meanwhile, work to clean the effects of the pollution is progressing well with a significant improvement in river water quality repor-ted. Ongoing consultations are taking place between Limerick County Council, the Environmental Protection Agency and the Health Service Executive in order to establish a time frame for the return of drinking water supplies to affected areas.
Paul Crowe, Director of Services, explained: "It is still too early to indicate when normal water supply can be restored throughout the affected area.  How-ever, the Council is working closely with the regulatory authorities, the HSE and EPA to ensure restoration of normal water supplies as soon as feasible." He added: "Council staff are working with the management of key community facilities such as nursing homes and schools to ensure that they have adequate water supplies to enable them to remain open."