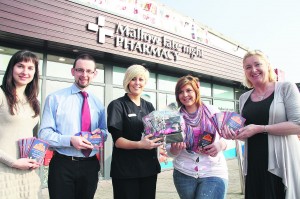 With the sun shining on Mallow over the past few days, hopes are high that the good weather will continue as final preparations for next weekend's Racing Home for Easter Festival are put into place. The festival committee has been meeting to discuss matters such as health and safety on the day, manpower, access to services, road closures, signage and location of the festival office.
Festival chairperson Mary Kelly says, "It's really coming home to us that we have just over a week to the biggest and most jam packed festival we have ever planned. It's very exciting but requires a lot of work by the dedicated festival committee members and other volunteers who have so generously offered their time to us over the Easter Bank Holiday weekend".
Mallow Tidy Towns are one such group. They are combining forces with Mallow Town Council to ensure that the streets of Mallow are clean and tidy over the weekend to ensure the thousands of visitors to our town see it in the best light.
Lots of local businesses have been showing their support for the venture over the past few weeks including Crafted Fitted Furniture. Diane and Paul O'Connor are supporting the festival for the first time this year. "Crafted Fitted Furniture is long established in Mallow and we hope that the same will be said about the Racing Home for Easter Festival in years to come. We're delighted to be supporting the festival in 2012 and it's just a small way for us to contribute to keeping our town busy and making people aware of what Mallow has to offer", says Diane.
Radio advertisements on 96FM and C103 began this week to ensure that no one can be in any doubt that Mallow is the place to be this coming Easter. Mary Kelly says, "We have to say that Mallow Print have been superb to work with over the past few months and with their help, our fantastic signage, road signs and posters are really making an impact on the people of Mallow, Cork city and county. Personally, I have been receiving loads of bookings for Cork Racecourse Mallow, from stag parties to girls eager to win the amazing prizes for Best Dressed. The final push is on now to the best Easter Bank Holiday weekend Mallow has ever seen".
Festival partners to date: Fáilte Ireland, Irish Rail, Cork County Council, Mallow Town Council, Cork Racecourse Mallow, Mallow Star/Vale Star, C103, Dairygold, Avondhu/Blackwater Partnership Ltd, Hibernian Hotel, Mallow Vintners, Luna Bella Boutique, TR Southern Fasteners, Mallow Print, Fitzpatrick's Jewellers, Knight's Spar, Carry Out off licence and Amber Oil, and the Mallow Primary Healthcare Centre.
Festival Friends: Mallow Chamber, Thermosafe Brands Europe Ltd, McDonalds, Aunty Nellie's Sweet Shop, Dano's Centra, Mallow Credit Union, North Cork Enterprise Board, Blackwater Valley Tourism, ITW Hi-Cone, Kostal, Bank of Ireland, AIB, Country Lifestyle , Dermot Casey Tree Care and Tool Hire, Luceys Good Food Shop, Longueville House Hotel, Park West Flowers, EPS Ltd, Padre Pio Nursing Home, QiFA Financial, Springfort Hall Hotel and Springfort Hall Shop and Cafe, Supermacs, Crafted Fitted Furniture, Kiely's Car Sales, O'Connell's Funeral Home, Mallow Development Partnership, Mallow Art Alliance, RAPID, Lyons Shoe Shop, Barry's Tools, Stunners Hair Salon, Susan Brennan/Head First Hat Hire, Spiralli Business Solutions, Foley's Supermarket, Profectus Coaching, Ballyhass Lakes, Apache Pizza, Food Capers, Peppers Restaurant, La Scala Italian Restaurant, Bella Café Restaurant, Minister Sean Sherlock, Tom Barry TD, Mallow Golf Club, Hidden Hearing, O'Flynn's Footwear, Barry's Tools, Little Rascals, An Excellent Choice caterers, Mallow Late Night Pharmacy, Cork Advertiser and Munster Flooring.