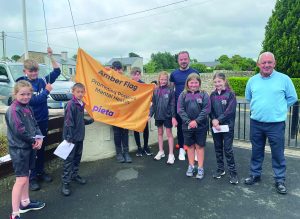 On Thursday, 23rd of June the Amber Flag Committee of Kildimo National School was delighted to announce that the school had been awarded the prestigious Amber Flag by Pieta House. The Amber Flag is an initiative ran by Pieta House which recognises the efforts of schools and groups to create healthy, inclusive environments that support positive well-being. Successful completion of the Amber Flag initiative involves the whole school community coming together in order to create a safe, positive and healthy attitude towards mental health and well-being. Once a school is awarded a flag it is placed in a prominent position outside the school to acknowledge this great achievement.
The committee had set four goals for the school to complete in order to apply for the flag. Our first goal was to create a School Friendship Tree. The leaves of the tree were  created by tracing and cutting out the outline of each child's hand. Each class was assigned a class colour and the tree was put together by the Amber Flag Committee. The tree symbolizes the friendship shown and promotes throughout the whole school community. The second goal was to organise a Wellbeing Walk. This walk was completed by the entire school and came to a distance of 5km. The third goal was to set up a Wellbeing Art Competition. Each class took part and the Amber Flag Committee judged the art projects, which proved to be a difficult task due to the high quality of the artwork! A prize was given to the winner in each class. The fourth and final goal was to promote positive wellbeing in our school using our Amber Flag Noticeboard. This displayed information about Amber Flag work as well as positive posters and pictures.
The Amber Flag Committee of Kildimo National School had been working very hard over the last number of months in order to achieve these goals and to work towards this fantastic result. They were delighted to accept the Amber Flag on behalf of the school. The whole school came together on Thursday for a flag-raising event attended by staff and pupils. The school was also delighted to have Johnny from Pieta House at the school today for the flag-raising. Johnny congratulated the committee and the school on such a superb achievement.
Each member of the Amber Flag Committee was presented with a certificate for their hard work, enthusiasm and commitment.   The school is now looking forward to continuing the work this year and into next year.