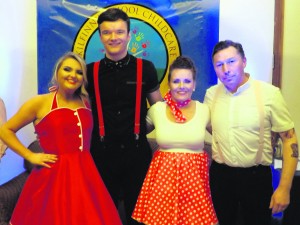 On Saturday 2nd January 2016, Kilfinny School Childcare hosted the first 'Strictly' event of 2016 in the South Court Hotel. A fantastic night's entertainment was served up by all dancers, judges, and our master of ceremonies' Lorcan Murray and Brian Kelliher.
Kilfinny School Childcare would like to thank a number of people who made the night such a success. To all the dancers and their families who sacrificed their time, night after night, for the past 2-3 months – this led to outstanding performances by all. The event also came at a cost financially for each dancer and we thank them for giving so willingly. Our dance teachers Bridget and Trevor (shallwedance.ie) were fantastic to work with from start to finish. They were always at the end of the phone to offer advice on dancing, costumes, hair etc. and offered many extra night's training to prepare for the event.  Their experience and support on the night was invaluable and they also treated us to a special performance of their own. Special thanks to 'Hair by Helen' and 'Beauty by Niamh' who not only gave freely of their time on the day to get the dancers looking so well, but also stayed to support each dancer on the night.
Thanks to all the sponsors, particularly, our main sponsor Lynch's Quarry Shop and Garage who have been a great support to the childcare facility since its inception. To all who sponsored the dance's and took ad's in the booklet, and gave prizes for the raffle we thank you for your generosity. Our best dressed dancer (male and female) prizes were also sponsored by a local business who wish to remain anonymous and the flowers presented to the judges were sponsored by James Lee-Geary BER assessor. Thanks to the committee members who worked tirelessly since last September to organise the event, they include Catherine Fitzgerald, Judy Murphy, Helen Thomas, Brian Kelliher, Darina Hannan and Marion Geary. Thanks to all the volunteers on the night who helped throughout, in many different roles and capacities. A special word of congratulations to Michael and Margaret Keane from Bruff who won our overnight stay in the 5-star Intercontinental Hotel in Dublin – which was kindly sponsored by the hotel for non-attending ticket holders.
If it were not for the humorous and insightful comments of our judges the night would not have been so enjoyable. Anne Culhane, Margaret Bernard and Tom Neville did a fantastic job in putting the dancers at ease and giving the crowd a few laughs along the way! Lorcan Murray (main M.C.) and Brian Kelliher (Green Room M.C.) both added immensely to the event and worked seamlessly together. A word of thanks also to the staff of Kilfinny School Childcare and Kilfinny N.S. who have been very supportive of the fundraising efforts to date. It is not possible to thank everyone who contributed before and during the night itself, to that end we wish to thank anyone who contributed in any way in making Kilfinny Come Dancing such a success. Congratulations to Sarah Madigan and Tomas O'Connor who were crowned winners on the night, and to Catherine Hurley-Smith and Ger Lenihan who were best dressed woman and man respectively.