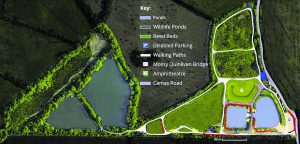 Volunteers will once again put their shoulder to the wheel to help in the development of our Eco Park. 3,000 native Irish broadleaf trees will be delivered in the coming weeks to allow for the January planting. Teams were very organised last year with one person going ahead of the group with the 4" augur making the hole which was then planted and filled with topsoil by the follow up group. We are hoping we can get similar teams to attack this work this year so please watch the space. We will begin the planting on the Saturday mornings until the evenings get bright enough to allow a Tuesday night planting like last year.
The trees will be planted in the different townland areas dedicated to one of the 26 townlands of our parish with families then invited to plant a tree in in memory of a loved one.
The regular Saturday 11am-12 noon maintenance programme resumes next Saturday morning. Feel free to join if you have an hour to spare. The perfect way to start the new year!