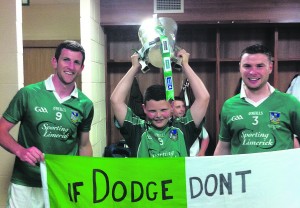 Limerick were crowned kings of Munster hurling following a stunning nine point victory over neighbours Cork in a breathtaking Munster Senior Hurling Final at the Gaelic Grounds on Sunday. The sound of referee James McGrath's final whistle at around 5.30pm on Sunday evening sparked unprecedented scenes of joy and relief among Limerick supporters who immediately thronged onto the Gaelic Grounds to hail their heroes.
The Limerick fans quickly gave vent to the sense of relief felt by Limerick people all over the world as John Allen and his heroes brought seventeen years of frustration to an end, and Limerick were now back from the wilderness and ready to take their place at hurling's top table.
Over 42,700 packed into the Ennis Road venue to witness a piece of history as Limerick defeated Cork in a final for the first time since 1980 and the sixth time in all in twenty finals between the counties.
It was a very special day for the west Limerick parish of Granagh-Ballingarry as native son Donal O'Grady became just the second man from the west to lead Limerick to Munster senior hurling glory. Only Paudie Fitzmaurice of Killeedy in 1981 had previously done so.
The final whistle sparked off celebrations that continued in Limerick city and in towns and villages across the county on Sunday evening, Monday morning and all through Monday culminating in an estimated crowd of 2,500 packing into Ballingarry on Monday evening to welcome Donal O'Grady and the team home.
Congratulating the Limerick team on Monday, the newly appointed Bishop of Limerick, Dr. Brendan Leahy said that yesterday was the first ever Munster Hurling Final he had attended and he had not seen anything quite like the outpouring of unbridled joy that greeted Limerick's success.
"I've read and heard so much about the special event that a Munster Hurling Final is, but having witnessed yesterday's celebration, I don't think there could have been many as special as that. From the off, on the way into the match, the atmosphere was electric.  I even had one of the vendors give me a Limerick hat free of charge before the game," Dr Leahy said.
Limerick will have very little time to bask in the glory of Sunday as attention will quickly turn to the All-Ireland series and an All-Ireland semi-final date with Kilkenny, Galway or Clare on August 18th.
See extensive coverage inside on pages 36-41.