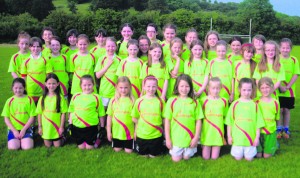 Next Monday 30 girls, part of a 100 strong group from Knockainey will travel to Croke Park to take part in a National Ladies Football Blitz for girls aged between 8 and 12. This will truly be a day the girls remember for the rest of their lives.
Many people in the club would have dreamed of getting to Croke Park with the club's senior hurlers, yet these girls will play there on Monday. They are taking part in the afternoon session and will have a minimum of four games in what will be a fun filled afternoon with the emphasis on taking part rather than winning.
The Knockainey club which boasts over a 100 members from underage to adult and which celebrates 10 years this year  was delighted to be selected as one of the teams to represent Limerick in the Gaelic for Girls programme. This programme started in the first week of April and ran for 8 weeks initially and a further 4 weeks to integrate these new girls with the existing club girls. Knockainey club got 46 new girls for this programme, 30 of whom have been picked for Croke Park.
"We have had over 40 girls training each Saturday morning for the last 12 weeks. The club would like to thank all those who helped in any way on a Saturday morning and also to the parents of these girls for their dedication in bringing these girls to training. We would also like to thank the local clubs for their challenge games over the last few weeks, and finally thanks to the girls for their commitment shown to date and hope they enjoy experience in Croke Park" said club chairman John McNamara.
Hopefully these girls will be the future stars of Knockainey and Limerick Ladies Football.