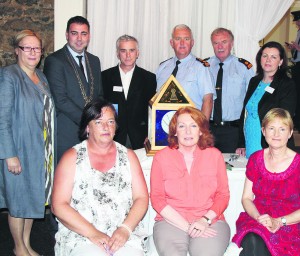 A new resource for families and friends of people bereaved through suicide is now available in North Cork. 'Lighting the Way North Cork, an information resource for people bereaved through suicide', was launched in Springfort Hall Hotel last Thursday by Ms. Kathleen Lynch, TD, Minister of State at the Department of Health with responsibility for Mental Health.  
The new user-friendly information booklet aims to improve the level of information and support in the community following a death by suicide. The pack was produced by the HSE North Cork Community Work Department, in collaboration with the HSE Health Action Zone (HAZ) initiative, An Garda Siochana and other community and voluntary groups including Le Chéile Family Resource Centre, Fermoy Community Health Project, Travellers of North Cork, Look Out, Cloyne Diocesan Youth Services and Ballyhoura Development.
'Lighting the Way' contains useful information about the range of supports that can be accessed in the community in the aftermath of a suicide, how to make contact with services and what to expect when you do.  The booklet lists national supports such as websites, helpline contact details along with other supports offered locally such as bereave-ment support groups and training around suicide awareness and prevention.
Welcoming the publication of the new resource, Brendan Scahill, HSE Community Worker for North Cork said, "We can now offer a solid resource pack to those on the frontline who may need to provide support to family or friends of a loved one who has died by suicide. The pack will be used by the Gardaí, health professionals and others who are liaising with people bereaved by suicide. It will provide practical information about accessing supports locally and nationally and it will also be of benefit to other colleagues in the comm-unity as a signposting resource and information pack."
Launching the new resource, Ms. Kathleen Lynch T.D. said, "The development of a user-friendly resource pack with identified supports, both local and national, for those bereaved through suicide, as well as information on the process involved after the death, is an excellent model of partnership in action. I am delighted the HSE Community Work Department, Health Action Zone (HAZ), An Garda Siochana and all the voluntary organisations have joined forces to help and support families who have been bereaved by suicide."
Gretta Crowley, Operations Manager Cork Mental Health Services & Lead for Mental Health Services in HSE South said, "Although the effects of suicide on the bereaved can be similar to other forms of death, they can also differ in a number of ways. For the suicide bereaved, making sense of the death, coping with the feelings of rejections, anger, guilt and disbelief can be even greater issues. The most important factor in healing from a loss is having the support of other people. This directory identifies the choices people have within their community to aid and assist them having been bereaved by suicide."
The National Strategy for Action on Suicide Prevention Reach Out has outlined the development of a support resource for those bereaved through suicide is a very important one for families. Several local groups have raised concerns around the issue of availability and consis-tency in the dissemination of support information locally to those bereaved through suicide. A working group was formed with the aim of developing a support resource pack and 'Lighting the Way – North Cork' is the second in a series of three such information resource booklets for families and friends of people bereaved through suicide in Cork city and county.  In April 2013, 'Lighting the Way – Cork City' was launched.