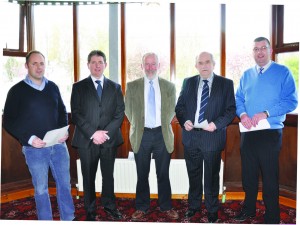 Last week Newcastle West and District Chamber of Commerce, in association with the Weekly Observer, launched a new Customer Award Scheme.
This is a new awards scheme aimed at recognising the efforts of customer service representatives all over west Limerick. You, the public, can nominate anyone working in the service industry for one of the monthly awards. We often praise the efforts of someone working in the local shop, public house, restaurant or hotel, public and civic office for "going the extra mile" in the name of customer service. Now is your chance to go one step further.
Nomination coupons will appear in the Weekly Observer. Just fill it in with the details of the person who has made the extra effort, along with their place of work and post to: Newcastle West and District Chamber of Commerce, The Weigh House, Market Yard, Newcastle West, Co. Limerick.
The winner each month will be announced in the Weekly Observer, along with being photographed at their place of work to highlight the excellent service available. An overall winner will be selected at the end of each year from the monthly winners to be deemed "Customer Service Representative of the Year" with valuable prizes up for grabs.
So get involved and nominate the person who has gone "above and beyond" to help you as a customer and have their dedication to service publicly recognised.