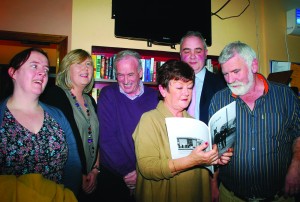 Last Saturday night a huge crowd gathered in the Community Café in Bruff to witness another chapter in the history of Bruff, the launch of the second volume of Images of Bruff.
The first volume, which was launched two years ago proved to be an outstanding success and it was felt by the members of Bruff Heritage Group that to repeat that success was going to be a difficult task. However, as the large crowd gathered and queued to get into the Community Café on Saturday night it became evident that Bruff Heritage Group were about to complete another very successful venture.
Bruff Heritage Group which was only formed in 2008 is proving itself to be a great asset to the town and is now clearly established as one of the leading organisations in Bruff.
On Saturday night, one of Bruff's most famous daughters, former All Ireland winning actress Mary Harvey who is well known also on television for her role as Bridie Clancy in the popular television series Kilnaskill, received a hero's welcome as she made her way through hundreds of well wishers who had gathered to witness the launch.
The night began as the chairman of Bruff Heritage Group, Paul Dennehy, told the large crowd that two years previous he had stood in front of them and explained what the then, newly formed Heritage group were about, what their aims and ambitions were for the future and the various projects they hoped to pursue. This time, he informed the gathering that he was proud to declare that Bruff Heritage Group "no longer needed an introduction to the people of Bruff" and that "they now had a record that any organisation would be proud of." He received rapturous applause when he declared that "Bruff Heritage Group would continue their work to promote Bruff." He went on to pay a special tribute to the hardworking members of this small group Anthony Gubbins, Michael Cronin, Mary O'Riordan, Canon Costello and Jim Cottam. He thanked all those who had been generous with their photographs and said that the group always promptly copy and returned all photographs submitted to them.
Canon James Costello spoke about the work of Bruff Heritage Group and how he felt it as an honour to be involved with those in the group and paid a special tribute to them for their hard work and commitment to ensuring that the heritage of Bruff was being recorded properly and been used in an appropriate manner to promote Bruff.
Then it was the turn of the special guest. Mary Harvey received a standing ovation when she went to the podium. She spoke of the great honour that had been bestowed on her when she had being approached by Bruff Heritage Group with the invitation to launch the book. She recalled her happy childhood days in Bruff and as she looked through the large crowd gathered in front of her she could see some of her former schoolmates, her lifelong friends, as well as neighbours. She recalled her fond memories of growing up in Bruff where she had developed a love for the stage in O'Donovan's Hall which led her to follow a career in theatre, which she enjoyed every day of.
She took a trip down memory lane and recalled the various people and characters that lived along the Main Street in Bruff in the 1950s and 1960s. Tears of laughter began to flow when she recalled a number of funny incidents which occurred during her time in Bruff.
Finally, it came to the moment of the night, when she was handed an envelope by Paul Dennehy which contained the first issue of this second volume. She opened the envelope and for a few minutes there was total silence in the Café as Mary realised that for this volume, Bruff Heritage Group had chosen a photograph with her late father as the cover for the book. As Mary held back the tears, she informed all those present that they were witnessing the greatest honour that had ever been bestowed on her. She thanked the individual members of the group for the honour and for their thought-fulness. She turned to the crowd and declared that the Images of Bruff was now officially launched. The crowd responded yet again with a standing ovation as a sign of the great esteem they hold for one of their own, one of Bruff's most famous daughters, Mary Harvey.
Images of Bruff went on sale immediately and is now also available in the Post Office in Bruff and in Nagle's Eurospar.