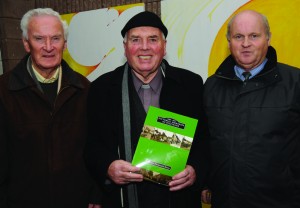 Last Friday night, the eagerly awaited book, 'Pictorial Memories of Kilfinane' was launched at a very well attended function at Scoil Pol. The evening commenced with a special Mass at St. Andrew's Church at 6.30pm for all deceased people from Kilfinane whose memory is kept alive in many of the photographs in the book.
Pictorial Memories of Kilfinane which was printed in Kilfinane was launched at Scoil Pol by Sr. Kathleen Neenan, former pupil, teacher and Principal of Scoil Pol, who is now Superior General of the Order of St. Paul the Apostle and has a very long association with Kilfinane. Sr. Kathleen said she was delighted to be asked to launch the book which she said was a very good presentation and covered all aspects of life in Kilfinane over the years. Glenroe native Liam O'Callaghan, Lecturer in Socio-Cultural Aspects of Sports at Liverpool Hope University, gave a very nice and very well researched talk on Kilfinane which was very well received by all present,
The Book which costs €20 is selling very well is available locally at Sheehy's Centra, Harry Murphy's, Hennessy's Butchers Henry McCarthy's and Power's Pharmacy as well as from Committee members and should make a very nice Kilfinane Christmas present.