Life is good again for a west Limerick man whose business hit the rocks in the wake of the economic downturn in 2008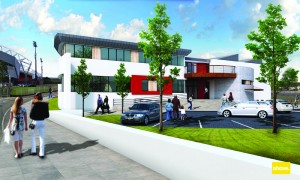 and 2009.
An Abbeyfeale-born architect, Conor Dennison has bounced back thanks to winning a competition among top architects to design what will be a landmark Limerick city building costing in the region of €2 million. The promoters of Limerick Youth Services Centre put together a list of about ten top architectural offices from Limerick, Clare, Cork and Kerry in September 2010 and invited them to enter a competition to design a Youth Services building adjacent to Thomond Park. "Having received the plans, I spent five weeks on the project doing nothing else before submitting what I thought was my best foot forward approach to the design, taking on board the brief that been given out," Conor recalled.
Twelve months later Conor was informed that he was among a shortlist of three and he was invited to do a presentation explaining his ideas and concepts to the Board. Having made the presentation, he was immediately informed that he had been successful.
There was no little irony in Conor winning a competition for the design of a building in the shadows of Thomond Park as the renowned stadium was the scene where his close cousin and also Abbeyfeale native Seamus Dennison played a huge role in Munster famously toppling the All-Blacks in 1978.
On winning the competition, Conor immediately set about putting together a design team before finalising the brief and budget with the promoters of the project. A final presentation of the design in a virtual 3D model was made to the Board of Management in December, and they gave the green light. Following consultation with Limerick City Council, a planning application was lodged three weeks ago.
Dennison, who is currently designing an extension to the boys' school in Abbeyfeale, concedes that success in the competition could not have come at a better time. "Anybody that knows the building industry knows that it is dead. I had gone from closing a business in Limerick city and returning home to live in Abbeyfeale. I had gone through probably the worst two years of my life as the business had folded and my relationship had ended, I was back home living with my parents, I had gone full circle and hit rock bottom. The timing of the project was perfect as I had time on my hands," he admitted
While the Abbeyfeale man continues to pursue a career in architecture and design, he is also vastly experienced in the film industry. He worked from 1998 to 2005 as an art director and designer in the industry with his last major assignment being 'King Arthur' which was produced by Jerry Bruckheimer in 2004. Bruckheimer is the producer of the CSI series. According to Conor, "that was the biggest film that I worked on, it had a budget of something in the region of €150 million and there was a year's work in it," Conor also worked in Thailand for six months on a movie with Jackie Chan.
Conor returned briefly to the film industry last year. " I have a three year old daughter Ida and I had to put bread on the table so I started making connections with film contacts. Last March I got a phone call from Tom Conroy who is the designer for 'The Tudors' series and he invited me to recreate Harland & Wolff 1910-911 for the series Titanic; Blood and Steel. It was an assignment that took up to three months in Dublin." That was followed by a month on the set in Serbia.
Life has turned full circle for Conor as he has enjoyed a bumper last twelve months. "You could say that the best year of my life has followed the two worst years. The darkest hour is before the dawn," he said.
The future is now bright, all going well planning should come through for the Youth Services Centre later this year and then the construction phase will take up to twelve months. Despite being extremely busy, Conor still finds time for his love of drama and is currently playing the lead role in a local Abbeyfeale Drama Group production of 'Anyone Could Rob A Bank'.
Conor, who currently works from home in Abbeyfeale and has two people employed temporarily, has plans to get his office in Limerick up and running later this year.