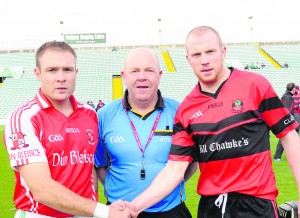 ADARE……………………………………………….2-17
DOON…………………………………………………2-15
Experienced Adare overcame youthful Doon in a thrilling finale in this exciting Limerick Senior Hurling Championship semi final before a small crowd in the Gaelic Grounds on Sunday.
In hindsight, a draw would have been a fair result, as Doon were never headed until the closing seconds of ordinary time with the teams level on two occasions in the opening 3 minutes and level on three occasions from the 46th till the 59th minute. Doon's captain Michael Fitzgerald won the toss and elected to play with the strong wind in the opening half. Roger Ryan gave Doon the lead in the opening minute, with a pointed free by Declan Hannon having the sides on level terms. A fine point by Roger Ryan gave Doon the initiative once again with a magnificent sideline cut from 37 metres by Declan Hannon having the sides level for the second time in the 3rd minute. A clever interception of a Wayne McNamara clearance by Roger Ryan restored the initiative to Doon before a long delivery by Pat Cummins came off the posts and fell in the path of the vigilant Pat Ryan who shot home a brilliant goal. Doon continued to dominate with Adare rattled and a quartet of points on the trot courtesy of Michael Ryan (2) and Pat Cummins (2) gave Doon a 7 point lead as the game received a lease of life in the 14th minute when, following a penetrative delivery by Diarmuid Sexton, the talented Willie Griffin shot an inspirational goal with Declan Hannon floating over a pointed free following a foul on Paul Keane. Pat Cummins, John Fitzgibbon, Declan Hannon and Cathal McNamara exchanged points with Doon retaining a 3 point advantage as the game entered the 23rd minute.
Doon received a major boost in the 24th minute when George Allis combined with Michael Ryan who shot a brilliant goal to the roof of the net after a magical surge through the Adare defence. Doon seemed destined for glory when Michael Ryan shot another point in the 25th minute to give his side a 7 point advantage. Adare rallied again in the closing minutes of the half with three points courtesy of Declan Hannon (2) and Donnacha Sheehan. The half time score read Doon 2-11, Adare 1-9.
The big question on most people's minds at the start of the second half was, would Doon's 5 point advantage be sufficient against wind assisted Adare for the second half? The opening 10 minutes of the second half was a nip and tuck affair with Declan Hannon (3), Pat Cummins and Michael Ryan exchanging points. A fine point by Willie Griffin in the 10th minute reduced the deficit to a solitary goal. Adare were twice wide of the target before a long delivery by the towering Wayne McNamara found Declan Hannon who after a probing run shot a bullet of a goal in the 48th minute.
Doon refused to be overawed and rallied back in tigerish fashion, being twice wide of the target before edging ahead again with a pointed free by Michael Ryan in the 21st minute. A minute later, following good work by Jody Hannon, Declan Sexton had the sides level for the fourth time in the game. Excitement was at fever pitch before Niall Maher, Michael Ryan combined with Michael Fitzgerald to edge Doon in front with 2 minutes of ordinary time remaining. John Fitzgibbon had the sides' level for the 5th time in the 29th minute before Adare finished strongly with 2 magical points from the never say die Willie Griffin. Elation for Adare, huge disappointment for Doon, having been the dominant team for most of the game.
Scorers: Declan Hannon 1-9, Willie Griffin 1-3, John Fitzgibbon 0-2, Donnacha Sheehan, Diarmuid Sexton and Conor Fitzgerald 0-1 each.
Doon: Michael Ryan 1-4, Pat Cummins 0-4, Pat Ryan 1-0, Roger Ryan 0-3, Cathal McNamara and Michael Fitzgerald 0-2 each.
Adare: Shane O'Donoghue; David Dillon, John Paul Healy, Stevin Lavin; Ross Kennedy, Wayne McNamara, Gearóid Ahern; Jody Hannon, John Fitzgibbon; Conor Fitzgerald, Declan Hannon, Diarmuid Sexton; Donnacha Sheehan, Paul Keane and Willie Griffin.
Sub: Andrew O'Connell for Sheehan.
Doon: Darragh Stapleton; Seamus Barry, Morgan Crowe, Eoin Fitzgibbon; Denis Moloney, Cathal McNamara, Richie English; Niall Maher, Darragh O'Donovan; Michael Fitzgerald, George Allis, Roger Ryan; Pat Cummins, Michael Ryan and Pat Ryan.
Subs: Liam Ryan for Barry, Michael Barry for Pat Ryan.
Referee: Richard Moloney, Bruff.