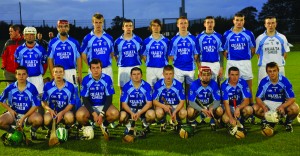 Killulta Gales …………………………… 1-14
Granagh-Ballingarry………………… 1-13
It seemed the game was destined for a draw as right-half forward Pádraig Lynch rifled home a bullet of a goal to leave Granagh/Ballingarry on level terms as the game entered extra time, but a pointed free by Shane O' Brien in the second minute of extra time gave Killulta Gaels victory in Mike Neville Park, Rathkeale, under floodlights last Friday evening.
Elation for Killulta Gaels, heartbreak for Granagh/Ballingarry. Intermittent rain and slippery conditions failed to dampen the enthusiasm of both sides. Granagh/Ballingarry began impressively with a points, from Kevin O'Keeffe and Niall Kennedy, before a pointed free from Shane O'Brien and a kicked point from Chris McMahon had Killulta Gaels on level terms. Kieran O'Keeffe and Thomas O' Donovan gave Granagh/Ballingarry the initiative before Dareen Walsh and Shane O'Brien had Killulta Gaels on level terms.
An opportunist goal from Robert McKeogh gave Killulta Gaels the initiative before Kieran Ryan, Shane O' Brien and Thomas O'Donovan struck magnificent points. A well struck point by Pádraig Lynch left two points between the teams at the interval with the scoreline Killulta Gaels 1-6 Granagh/ Ballingarry 0-7.
Killulta Gaels consolidated their position early in the second half with a brace of points from Robert McKeogh, but this failed to overawe Granagh/ Ballingarry, with Niall Kennedy and Thomas O'Donovan cutting the deficit to two points. Midway through the half the teams were on level terms again thanks to the artistry of Niall Kennedy and Thomas O'Donovan, before Shane Walsh and Niall Kennedy exchanged points.
Points form Ciarán Ryan and Darren Walsh gave Killulta Gaels a two point advantage before Niall Kennedy cut the deficit to a solitary point with four minutes of ordinary time remaining. Points from Shane O'Brien (two) put Killulta Gaels in the driving seat but a brilliant goal by Pádraig Lynch in the dying moments of ordinary time had Granagh/Ballingarry back on level terms before Shane O' Brien delivered the killer blow in the second minute of injury time. Chairman of the County Board Liam Lenihan presented the trophy to Cian Hayes captain of Killulta Gales who were overjoyed with their success.
Killulta Gaels: James Carey, Eoin O' Brien, Brian Howard, Ciaran O' Brien, Shane O' Brien, Cian Hayes, Ronan Liston, Darren Walsh, Peter Nash, Barry O' Connell, Ciarán Ryan, Tony McCarthy, Darragh Walshe, Chris McMahon, Robert McKeogh.
Granagh.Ballingarry: Kevin O' Kelly, Kieran O' Donovan, Kevin Forde, James Noonan, Pa Healy, Mark Snow, Seamus Lenihan, Marcus Moore, David Condron, Pádraig Lynch, Niall Kennedy, Kieran O' Keeffe, Thomas O' Donovan, Conor Hogan, Niall Carroll.
Referee: Morgan O'Sulli-van, South Liberties.