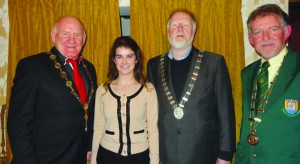 The Limerick Youth Community Games Committee along with family and friends will be hiking up Croagh Patrick to raise funds and awareness of youth mental health and the positive role of the Community Games in young people's lives.
The climb on Sunday 21st of April is the biggest fundraising event ever undertaken by Limerick Youth Community Games Committee and 70% of money raised will go to Headstrong, the National Centre for Youth Mental Health. The remainder of the funds raised will go to Limerick Youth Community Games. There are currently 50 climbers signed up to do the sponsored climb but the aim is to have over 100
Speaking about the planned event, Sarah O'Meara, Chairperson of Limerick Youth Community Games, said: "All young people have mountains to climb and we picked Croagh Patrick because when we climb with family and friends we find our path easier. It's the same with mental health and we really like Headstrong's vision where young people are connected to their community and have the resilience to face challenges to their mental health.
"The Limerick Youth Community Games Committee is part of Community Games an independent voluntary sporting organisation. Their aim is to provide opportunities for children and young people to grow and develop a positive and healthy way while experiencing a wide range of sporting and cultural activities. Their members are between the ages of 16 and 25.
"The Limerick Youth Community Games Committee volunteers at local, provincial and national levels of Community Games events. They facilitate courses to improve the skills of their members for the overall benefit of communities in the Limerick area.
"Headstrong is Ireland's National Centre for Youth Mental Health and was established in 2006. Headstrong's mission is to change the way Ireland thinks about young people and their mental health through the Jigsaw Programme of service development, Research and Advocacy. As stated by Sarah O'Meara "Mental health is the number one health issue for young people in Ireland today."
The Climb was launched last Wednesday night at the Woodlands House Hotel with the Mayor of Limerick City, Cllr. Gerry McLoughlin, Cllr Jerome Scanlan, Cathaoirleach, Limerick County Council, David Wallace former Munster and international rugby player, Sarah Lavin, international athlete, and Limerick footballers James O'Meara, Danny Neville, Pa Ranahan and Stephen Lavin, Cllr Michael Sheahan, President of Limerick Community Games, Phelim Macken, Co-ordinator, County Limerick Local Sports Partnership, present. Community Games executive member Joe O'Halloran made a surprise appearance as St. Patrick to conclude the evening. If anyone is willing to support the Climb to Croagh Patrick on 21st April, sponsorship cards and additional information can be obtained from both Sarah O'Meara 085-1141609 and Bernie Liston 085-7362972.