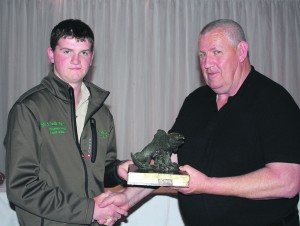 Last weekend a half dozen Mallow Trout Youth Anglers headed to Ulster to represent Munster in the TAFI Youths River and Lakes Interpros. Friday at 11am saw them gather in the Bridge House car park to begin the journey north. Along with parents and a mountain of gear, that is. Shortly after 11am a small convoy of overloaded cars and vans was seen heading through the park for the Limerick road and then on to Dungloe in Co. Donegal. 
Saturday morning saw them registering at Loughanure Lake up in the Rosses. Boatmen were picked and paired off with two anglers. The day was cool with a slightly overcast sky. After some torrential downpours the night before, the lake was rising considerably throughout the day. Fishing was from 12 noon to 5pm. After this the result was decided. Leinster were victorious, with Munster coming third behind Ulster. A really credible effort from all. Peter O'Brien landed a small salmon, his first ever, which he returned. Leinster also had the three top anglers on the day. Well done to them and to all who took part.
Sunday saw some of the same anglers heading to Tyrone to join up with others who had arrived on the morning to fish the TAFI Youths River Interpro. The Wichery was the venue. It was fished over two sessions, am and pm. The river was very low after all the fine weather we have had all summer. Fishing was slow with few trout coming to the fly. 5pm saw all anglers heading to the local hall to await the results. After some deliberation Mallow TA Youth Eoin Curtin was announced winner. This is a great achievement for Eoin who already won the Munster Youths Lake in Killarney a month ago. He also represented Ireland with distinction in the Fips Mouche World Youths Championship in Poland a couple of weeks ago. A great year for young Eoin with more to come in the future, I'm sure. Munster were then announced as champions in the team event. An absolutely brilliant result all round.
All these young anglers were a credit to their families and clubs over the weekend, and all represented Munster with pride.