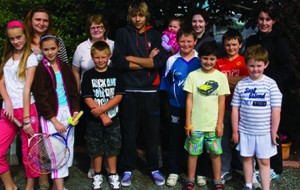 Families in south east Limerick are getting ready to extend their annual welcome to Children from Chernobyl, in Belarus.
Hospital-Herbertstown Friends of Chernobyl have been welcoming children from the orphanages of Belarus to the area each summer and Christmas since it was established seventeen years ago. The friends group was established by the Madeline Donaghy, the current President of the organisation with Mary Paul Cooke and Betty Carmody, who are still part of the group.
Chernobyl continues to suffer the after effects of the nuclear fallout of a quarter of a century ago and according to current group Chairperson Donncha Cleary "it is said that if a child is brought out of that environment for two weeks, it could add anything up to two years to their life. Basically what we want to do is bring the children in here, let them see the culture here in Ireland and to mingle with our children. They usually come for four weeks in the summer and again for three weeks at Christmas".
The children are put up by host families and Mr. Cleary pointed out "families become very attached to them and they could not do without them, so it is a system that is mutually beneficial to all parties."
Most of the children who come to Ireland are from orphanages in Belarus and the rest are foster children perhaps being fostered by their aunts uncles, older siblings or other relatives who have survived.
Bringing children to this country involves a lot of forward planning and fundraising to finance the trips. "For those arriving in July, we start planning in January. We have a cycle the last Sunday in January every year organised by Garda Tom O'Connor and in which up to ninety cyclists take part. Up to two years ago this covered all the costs of the summer and Christmas visits, but since the down turn in the economy, it covers the summer trip and defrays part of the Christmas visit," Donncha explained.
A lot of paper work is involved in trips, Garda vetting has to be carried out on the host families and the organising group are required to retain an interpreter to help the families.
Group Secretary Catriona O'Dea extended the group's gratitude to John the Baptist School, Hospital for their ongoing assistance, the volunteer bus drivers and the many individuals in the community that help by donating money. "Recently we did a number of church gates collection and we would like to say a big thank you to everybody who contributed," she said.
This year's group consisting of nine children and an interpreter are due in Ireland on December 22nd and will remain here until the January 17th and will be hosted by up to ten families. They are sure of another truly Irish welcome.