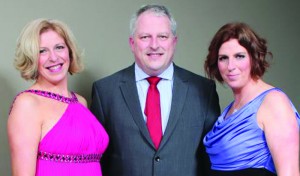 Nearly 150 people supported the Mad Hatter's Dinner Party last week in aid of the Jack & Jill Children's Foundation.
The event, which was organised by the Limerick College of Further Education Event, Venue and Media Management Evening Programme Class, was held in Limerick's Clarion Hotel. The students were overwhelmed by the number of individuals and companies who either gave their time free of charge to entertain guests or donated spot prizes for the raffle, the star prize of which was 2 tickets to see Ireland play Austria in the Aviva Stadium with access to the players' lounge.
The party kicked off with the wow factor thanks to street entertainment provided by stilt walker RG Allen and fire breather Sarah Anderson. They were joined by classmates and Mad Hatters, Ray Nash and Joanne Downes, who also posed with guests for photographs by Munster Images and Caleb Purcell Photography.
Once inside the Pegasus Suite, beautifully decorated with props supplied free of charge by Ger Sweeney Elegance, champagne, compliments of Newcastle West's Pallas Foods, was enjoyed along with singing by Rachel Fitz-Shanahan and magic by Leon Anderson. During dinner, guests were treated to a jaw dropping dance performance by Eclipse Stage School and afterwards spoiled with after dinner Lough Derg Chocolates.
Class Tutor and MC for the evening, Fran O Donnell, told the audience that the event was raising much needed funds for the Jack and Jill Children's Foundation, a charity that provides direct funding to families with children with severe neurological development issues. "It takes something in the region of €3 million to provide the services provided by Jack and Jill," he said adding that "they rely on donations from events like this evening to generate that phenomenal amount of money." He highlighted that all the money raised on the night would help families in the Limerick area. Having commended the students on all their hard work in creating such a wonderful event, Fran invited everyone to enjoy an evening of dancing to live music by the Mad Hatter's Band and disco with DJ Party Marty.
The students would like to take this opportunity to thank Fran for his guidance in the planning of the event, everyone who attended and the individuals and businesses that donated materials, prizes and time free of charge.