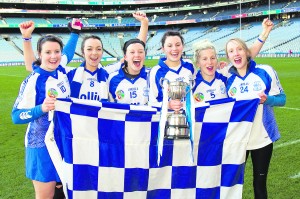 MILFORD……………………………………………0-6
ARDRAHAN………………………………..0-5
It might not have been one for the purists but that, in actuality, accentuates the absolute magnificence of this Milford team. Last year, having finally relieved themselves of the burden of not winning a county senior championship after years of expectation, they free-wheeled their way to Croke Park on a joyous wave that culminated in Elaine O'Riordan getting her hands on the Bill Carroll Cup.
There were different pressures this year though and the girls from the Kilbolane townland showed steel to go with the silk we already knew about.
Nowhere was their courage more evident than at Croke Park on Sunday though. They have always had a mantra about not conceding goals and once more, it was an edict they held true to. The irony is that it nearly cost them.
We were edging into the third of three scheduled minutes of injury time and Milford were clinging on to a one-point advantage, when a ball was sent towards their goal. ,O'Riordan – who had excelled along with the likes of Maria Walsh, Anna Geary and player of the match Aisling Thompson – was under the sliotar, and thinking she was standing closer to her posts, batted it out over the line.
When she turned and saw that the shot had been sailing wide, she put her hands to her head. The realisation dawned that Rebecca Hennelly had a 45 and no-one was betting against the Galway sharpshooter rescuing her side.
Unfortunately for Hennelly, who had supplied four of Ardrahan's five points, her shot drifted just wide and so relieved was the Milford skipper that she ran out and jumped on referee, Alan Lagrue's back. That's elation for you. Lagrue took the hint and blew the whistle and the celebrations began in earnest.
While defences controlled the game – and that should never be viewed negatively, for defending is a skill in itself – there was no shortage of commitment throughout the pitch.
No-one encapsulated that any more than Emer Watson, who provided five of the Milford points. The free-taker damaged the medial ligament in her left knee in a challenge match around 10 days previously and her first run since then was on the morning of the game.
"I was dragging it around the field after me but I suppose once you're out there, I didn't even think about it," smiled Watson.
"I was kind of panicking because I hadn't even practised frees in the last week-and-a-half and it's something that, coming up to matches, I religiously do, every second day or every few days. At least the majority went over so I'm kind of happy with that."
It was just as well for Milford that she did beat the odds to make it out on the pitch for they needed every score they could muster.
Conditions were extremely difficult due to the heavy rain that had fallen earlier but some of the defensive work was astonishing.
Milford settled well though and the use of a sweeper seemed to backfire on Ardrahan, as Thompson just stepped back and swept up all around her. She hurled a phenomenal amount of ball in this period but when the occasion demanded in the second half, threw her body into the collisions with a relish too.
The champions almost had a goal from their opening attack but Máire Flanagan was just wide with a ground shot. She was fouled soon after for Watson to get the scoring under way. They gradually went four points clear via the stick of Watson, who added two more frees and also landed the game's first point from play.
Ardrahan edged back into it though and Hennelly's two pointed frees were reward for a strong final 10 minutes.
Having said that, the two-point advantage probably wasn't a fair illustration of Milford's superiority. They set about redressing that balance but just couldn't get the better of the likes of Shauna Healy and Aoife Lynskey-Keane, while Ardrahan goalkeeper, Róisín Gardiner dealt with three very dangerous deliveries under pressure.
Nonetheless, points from Marie O'Neill and a Watson 45 stretched the advantage to three, with Hennelly hitting another placed ball in response. In this type of a game, three points was a good lead.
Whether Milford got into a what-we-have-we-hold mentality or Ardrahan found another gear, it was the Galway girls who pushed on in the final 10 minutes.
A 52nd minute Hennelly free reduced the gap to two but it wasn't until the second minute of injury time that the margin became one.
Suddenly the nerves were jangling but Milford ground it out.
Leaning against the wall in the tunnel under the Hogan Stand, having been moved off the pitch by an over-zealous Croke Park official attempting to cut short the revelry –you think they'll be doing that on St Patricks' Day? – Watson was struggling to make sense of it all.
"Oh my God… just so, so delighted. I can't believe we actually did two-in-a-row. We knew how hard it was going to be and we knew the battle Ardrahan were going to give us but by God we didn't expect what was going to happen out there today.
"It's just brilliant, I can't put into words to explain what we have done today. The commitment and dedication every single one of these girls have put in over the last two years; we've actually put our lives on hold. It just means so, so much to us and we're absolutely delighted."
Although she was the scoring hero, there was no doubt in Watson's mind why this game was won and she wasn't looking at her own, significant, contribution.
"It was really, really tough. You could see they were an absolutely brilliant team and we just found it hard to get the scores today… extra passes and overdoing it a bit. There were probably simpler options.
"But our backs were just absolutely class and they have been all year. Our motto is don't concede a goal and you will win the match. And that's how it was today."
Champions always find a way.
Scorers: Milford: Emer Watson 0-5(4fs, 1 45), Marie O'Neill 0-1
Ardrahan: Rebecca Hennelly 0-4(fs), Keelin O'Shaughnessy 0-1
Milford: Rebecca Finn; Katie Galvin, Elaine O'Riordan, Lisa Healy; Maria Walsh, Anna Geary, Áine Watson; Orlaith O'Mahony, Aisling Thompson; Emer Watson, Deirdre O'Reilly, Aideen O'Flynn; Marie O'Neill, Máire Flanagan, Maria Watson.
Sub: Louise O'Flynn for Emer Watson blood (21-22), O'Flynn for O'Mahony (50), Sinéad O'Flynn for Aideen O'Flynn (60+2).
Ardrahan: Róisín Gardiner; Sarah Keehan, Shauna Healy, Aisling Brennan-Dillon; Siobhán Gardiner, Aoife Lynskey-Keane, Síle Forde; Aoife Callanan, Megan Carr; Rebecca Hennelly, Andrea Mullins, Rachael O'Toole; Denise Diviney, Cliodhna Walsh, Keelin O'Shaughnessy. Sub: Edel Holland for Diviney (48), Brenda Kerins for Walsh (55), Katie Quinn-McMahon for Forde (59).
Referee: Alan Lagrue (Kildare)