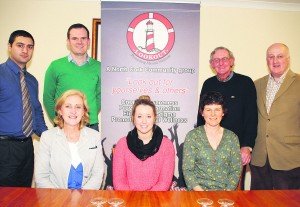 A major Mental Wellness Exhibition will be held in the Hibernian Hotel on Friday 16th November, organised by 'Lookout,' the community-based group formerly known as the Hope, Friendship and Peace Movement. The all day event will cater for every sector of society, starting with students from 9.30am to 3pm, an open session with up to 20 organisations represented from 3pm to 7.30pm, and a night session for the general public from 8pm to 10pm.
Minister of State Kathleen Lynch will attend, and speakers for the early sessions will include Dr. Gillian O'Brien of 'Headstrong,' Shane Mullins, rapper GMC Beats, Dr. Tony Heffernan and the HSE. Speakers for the night session include Dr. Tony Heffernan, Shane Mullins, Theresa Fuller and Dr. Bertie Daly and there will be a showing of a HSE film 'Be Happy.'
All sessions are free of charge to attend, and the organisers this week thanked their main supporters, the Hibernian Hotel, Avondhu Black-water, the HSE and others. For further information contact 087 7119799, email lookoutpmw@gmail.com.