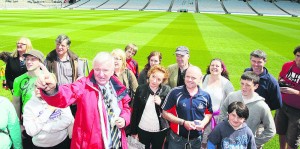 Bill Barry, Chief Steward in Croke Park (a native of Mallow) recently passed to his eternal reward. Liam O'Neill, President of the GAA led the tributes, praising Bill's voluntary contribution to the GAA and to Croke Park and the many hours he spent ensuring patron's safety in the stadium.
Born in Mallow, Bill lived with his family in Spa Terrace, subsequently moving to the historical Spa House (where Bill as a young lad used to take people on a tour of the house). He received a Bachelor of Commerce in UCC (where his brother Paddy was a Professor of Mathematics).
Bill began his working life with the ESB and then moved to Teagasc where he became Head of Human Resources until his retirement. His relationship with 'Croker' began in 1976 when he signed up for the voluntary stewards team. From that time on, Bill held nearly every stewarding position in the stadium and in 2010 he was appointed Chief Steward which saw him assume responsibilities for the recruitment and training of all stewards.
As Chief Steward, Bill was instrumental in the development of the FETAC Training Course for all stewards operating at all games throughout the country, including FAI and IRFU games. The course provides supervisors and stewards with skills in handling large events and crowd control in a safely-managed way. His leadership skills were seen by many as a key element of the success of Croke Park match day events. Bill also enjoyed bringing visitors on stadium tours in recent years.
In November 2010 Bill was honoured at the Ire-land Involved Awards where the country's out-standing volunteers were recognised for selfless contributions to their respective communities and organisations.
In his leisure time Bill loved to walk and hike. He had a particular fondness for hiking over the Knock-mealdown Mountains where he often caught a glimpse of his beloved Cork. Bill was also a res-pected badminton referee with Whitehall Badminton Club in Dublin.
The regard that Bill was held in could be seen from the number of voluntary stewards who performed a guard of honour at his removal and burial. A lovely thought from the priest who officiated at his funeral mass was that "though God called Bill home early, he had a role for him in managing the stewarding at the big games in Heaven."
Bill Barry was a gentle-man, courteous and help-ful, always willing to give assistance in a quiet and respectful manner. He leaves us to cherish his memory: to his beloved wife Lorraine and daughter Carla, brothers Teddy, Paddy and sister Pauline O'Murchu, deepest condolences.
'A helping hand to all he knew.
So kind, so generous and true.
On earth he nobly did his best,
Grant him Lord, heavenly rest.'