The Minister for Research and Innovation at the Department of Jobs, Enterprise and Innovation, Seán Sherlock TD, launched the 2011 Mallow Business Awards on Tuesday evening, paying tribute to the way in which local businesses are leading the way to economic recovery. Hosted and sponsored by the Mallow based Barry Group, this is the fourth year the popular business awards will take place and each year the competition gets bigger and better!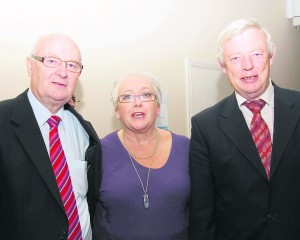 The Mallow Business Awards are open to businesses of all sizes and from all industry sectors. Businesses can entered by an external nominee or owner/managers can put their business forward for the competition. Categories for entry this year include:
1. Best Large/Medium Company
2. Best Small Company
3. Best New Business
4. Mallow Entrepreneur of the Year
5. Customer Service Award
6. Best Shop Front Design/Décor
Minister Sherlock was delighted to attend the launch event which he described as a vital date in Mallow's business calendar: "There is much that is positive within the Mallow business community and I am delighted to support this event which acknowledges the hard work, efforts and achievements of business people who are making a vital contribution to our economic recovery", he said.
Speaking at the launch of the Awards, Jim Barry, Managing Director, Barry Group said, "I am continually impressed with the calibre of businesses here in Mallow. The business environment is still experiencing significant challenges nationally and internationally and the way in which local businesses look to innovate and improve is a testament to their dedication and commitment. Mallow has cemented its position as the economic heartland of North Cork which is a source of considerable pride for me as a business owner in the locality".
Also speaking at the launch was Mallow Chamber President, Pat O'Sullivan: "Mallow Chamber is delighted to be associated with the Mallow Business Awards. One of the goals of the Chamber is to raise the profile of the town and through our association with these awards, we can achieve this right up to the busy Christmas period! I hope that these Awards will help all our local businesses to remain focused on their key goals and objectives".
The awards are also sponsored by Business Cork magazine. Speaking at the launch, Michael Mulcahy, Businesses Cork said: "It is heartening to see the great interest that Mallow business people have in promoting Mallow and North Cork and, in particular, their own businesses. The entrepreneurial spirit of Ireland is alive and well in Mallow and I am delighted that Business Cork is part of these fantastic, progressive awards".
Nominations are now open for this year's Awards and will remain open until October 7th. Winners will be announced at the Mallow Chamber Ball in Springfort Hall on December 3rd.
Also in attendance at Tuesday's launch were previous winners and members of Mallow Chamber, and local business representatives. Media sponsor for this year's awards is the Mallow Star, which is very happy to be associated with the initiative which highlights all that is good and progressive about Mallow and the businesses which play such an important part in our town.