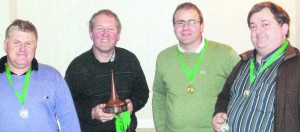 Mallow Camera Club members pulled out all the stops recently at the Southern Association of Camera Clubs Print and Projected Images Com-petition. With a huge turnout from all over Munster and South Leinster, Mallow were amongst the winners in all the major categories. In 'Mono Prints' Morgan O'Neill came second with a new and original image of 'the Rossbeigh Boat'. Also in the mono section, Rodney O'Callaghan took a well deserved third place. Speaking after the competition, Rodney expressed his surprise and delight on doing so well.
In the 'Projected Images' section John Hooton picked up a bronze medal and also won the Seamus Scullane Memorial Trophy for the best overall image in the competition.
Within the different categories there were also a number of themes. Here again Mallow had success, this time it was the turn of Bill Power. Bill won the best intermediate image in both the 'Environmental Portraiture' and 'People' sections.
These photographers together with Vivien Buckley, Terry Conroy, Jim Heffernan, Brid Coakley, John Flynn, Mary Magner, Neily Curtin, Paddy Feen and Jeremy Kingston all now progress to the National Finals which will be held in Dublin in February 2012. Well done to all the Mallow photographers who took part.