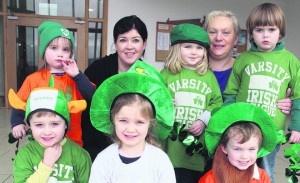 This year's St. Patrick's Day Parade promises to be bigger and brighter than any of the previous 25 years of  festive parades. The Parade Committee was founded just twenty five years ago, and a prominent member of that inaugurating committee still serves on the committee as its treasurer. This person is none other than Mrs. Hanna Sheahan. Hanna is delighted that the parade has gained, over the years, a great reputation as a parade with a huge community input and still attracts a large turnout with thousands of people lining the streets.
The theme of this year's Parade is 'Green Shoots in Mallow Going Forward', and the organisers are hopeful that those participating will try to look to a bright future for Mallow. We are all well aware that these are difficult times for every-one, but we also know that, in time, things will get better. "So", said Chairman, Cllr. Noel O' Connor," we are hoping that this year's parade will lift up our spirits and allow all the people of Mallow and North Cork to lighten their hearts for this year's St. Patrick's Day. It is my hope that people will smile and have fun with our young people and families in Mallow on the day". The organisers are hopeful that the business community will take this opportunity to show off their business at little or no cost, except for the cost of a 'float, in participating in the parade'.
Some may choose to take the 'green' part of the theme when deciding on their group's St. Patrick's Day activity. This is also very acceptable. The young people are ever so conscious of the 'green' issues facing our country and indeed the world. "We would like to see as many schools from Mallow and indeed from over north Cork participating in this year's parade," said Cllr. O'Connor. "We already have confirmation that Thomas Davis Pipe Band will again lead out the Parade. Blarney Brass and Reed Band have also indicated that they will be in attendence this year". The parade, which will take place on Saturday 17th March starting at 2.30pm, will assemble in the Town Park area. It will proceed along the West End and down Davis Street. The reviewing platform will be outside the Credit Union offices where Mayor Dan Joe Fitzgerald and other local dignitaries will take up their positions. Those intending to participate in the 25th Anniversary Parade should contact the Secretary of the Parade Committee, Maire Ui Bhriain at 022 42248  or the Chairman, Cllr. Noel O'Connor at 087 2738222.