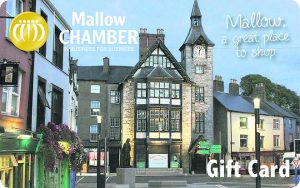 Mallow Chamber has come up with a novel scheme to boost local shopping and business, in the form of a Mallow Chamber Gift Card which will allow employers in the Mallow area to reward and motivate their staff with a tax-free benefit, while stimulating the local economy at the same time. The card is being issued in partnership with the Gift Voucher Shop (GVS), the company behind the One4all Gift Card, and can be used at more than 50 retailers in Mallow only.  Employers can reward their staff with up to €500 on a Mallow gift card completely tax-free as a one-off benefit each year. The benefit is exempt from income tax, the Universal Social Charge (USC) and employee and employer PRSI.
President of Mallow Chamber Sean Lynch said the organisation was very pleased to partner with the Gift Voucher Shop in this offering. "It is innovative and practical and allows businesses in Mallow to not only reward and incentivise their employees, but to stimulate trade in the town. It is a great way to reward staff through a one-off benefit and it will help drive customer and staff loyalty."
Any businesses wishing to purchase the Mallow Chamber gift card can contact One4all directly on 01-8708181 or e-mail mallowchamber.ie.