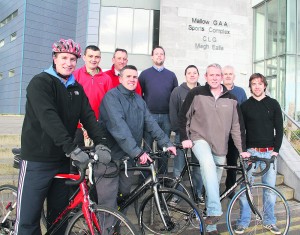 As many as 19 Mallow cyclists will undertake a 100 mile cycle to Valentia in Co. Kerry on Saturday week, 14th April, to raise funds for Kerry footballer Paul Curran who is trying to raise €80,000 for life-saving surgery.
Participants from Mallow GAA Club will be joined by local Gardaí for the cycle which will leave Mallow GAA Complex at 8am on Saturday week. As well as raising money through sponsorship, a bucket collection will be held at Dano's SuperValu on Saturday week, and the public is asked to give generously in aid of a deserving cause.
The hardy cyclists who will undertake the cycle are Kieran Mills, Fergal and Michael McCormack, Tadhg O'Riordan, Clive and Dee Kerrisk, Pat Healy and his daughters Donna and Kate, Cathal Murphy, Julie Sweeney, Liam Doyle, Michael Walsh, Hugh Twomey, Richie Lane, John Horgan, Niall Ruddy, Anthony Daly, Liam Phillips and Philip Hayes.
Paul Curran is 40 years of age, married to Karen and they have three daughters, Sara (17), Clodagh (13) and Caoimhe (11). Paul started playing for Valentia senior footballers at 17 years of age, and repre-sented Kerry at minor, U21, junior and senior level. He moved to Dublin in 1993 and helped Ballyboden/St. Enda's to their first ever county title in 1995. He returned to Kerry in 2000 and played with Valentia until 2009.
In 2010 Paul was diag-nosed with bowel and liver cancer and had surgery in Kerry General Hospital. He now needs further life-saving surgery in the Royal Marsden Hospital in London, and with the cost expected to be as much as €80,000, a Paul Curran Trust Fund committee has been set up and various fundraising events have been organised.
Mallow GAA Club is anxious to help in any way and the sponsored cycle on Saturday week will hopefully help in a big way. Please support.