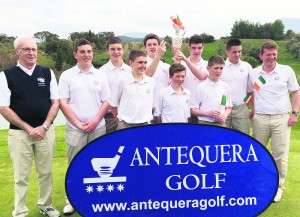 Mallow Golf Club last weekend celebrated the greatest achievement of its 67 year history when members gathered to honour its U18 boys on their return from Spain, having won the Home Nations Trophy.
The team, comprising Kevin Dowling (captain), Kieran O'Sullivan, Edward Walsh, Conor Roche, Kevin O'Keeffe (jnr), Liam Dowling, Greg Barrett and Roy Whelan, were among an eight-team line-up for the competition at Antequera Golf Club. Pitted against them were two teams each from England, Scotland and Wales, and one from Ireland, and also on hand was a Sky Sports film crew to record the competition for later transmission. On the first day of competition the boys lost narrowly to Scotland, but on the following two days they beat England and Wales. At the end of this, three teams had two wins and one defeat, and on a countback the Mallow boys went through to the final, where they faced Belvoir Park in an all-Irish decider. Belvoir Park were Irish champions in 2013 and were confident of beating the Mallow team, who lost out at the semi-final stage last year. From the start Mallow took control, and once Eoin Goggin went three up after just four holes, his team mates took encourage-ment, and several games ended before the 18th hole.
A homecoming celebration was held in the clubhouse on Sunday night, where the trophy was on display, and team manager Bobby Howell was effusive in his praise for team captain Kevin Dowling and his fellow young golfers. The contribution of Michael Collins, PGA Professional, was also acknowledged, and the support of club captain Eamonn O'Connell and his wife Marie, who travelled to Spain to cheer the team on, was also highlighted.
For more on this historic win for Mallow Golf Club, see page 22.