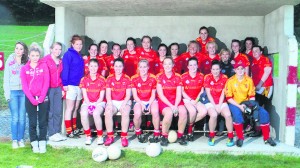 Junior team
Courcey Rovers……0-13
Mallow………………….0-7
Mallow played a hugely entertaining game in their final championship match on Tuesday evening last in Ballinaspittle. The first few minutes were played at a great pace but it was not long before Courcey Rovers threw the first punch and got a point on the board. Mallow's Jenny Luddy responded by putting over a point of her own. Courcey Rovers dominated the next few minutes and added a few more points to the score board. Mallow rolled with the punches and fought tooth and nail for every ball. They were able to secure a few more points but were trailing by 7 points at half time.
Courcey Rovers started the second half as they ended the first and put over 3 points in the first few minutes. Mallow needed a response and when push came to shove it was Mallow's defender Deidre McCarthy who stepped up, got her head in the game and put up a good fight for the Mallow side. Mallow played well in patches but it was Courcey Rovers who had the upper hand. Hats off to keeper Karen Finnegan who had a commanding yet calming presence on the pitch when needed. The gloves were off and there was no holding back Jenny Luddy's scoring ability. Bridget Barton was brought on and it was she who stole the show with her kicking skills in the end. Along with Niamh O'Regan they both fought to the bitter end. The Mallow girls gave it their all but the gap was just too big
Training
U14s are to resume training this Thursday from 7-8pm in Carrigoon in preparation for their summer league.
Matches
U12s
The U12s were to play Boherbue last Wednesday in the North Cork semi final but it was postponed due to the weather. This game will now be played on Friday at 7.30pm in Boherbue. Best of luck girls.
U16s
The U16s game against Banteer last Thursday night was also cancelled. There has been no date set for this refixture.
Minors
The minor team played Dromtarriffe last Tuesday night and will now go on to play Banteer in their next game.