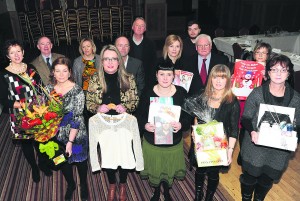 20 Mallow retailers are set for a very busy Christmas, thanks to a specifically designed retail programme funded and managed by North Cork Enterprise Board. This new pro-gramme, aimed at owner/managers of retail outlets in Mallow town, was completed on Wednesday 27th November in the Hibernian Hotel and hosted by North Cork Enterprise Board. The objective was to give retailers new tools to help them grow sales during these challenging times. The programme entailed four days of training (one day of training per month) as well as a store audit and visual merchandising audit. Ireland's leading retail consultant and advisor James Burke delivered the training workshops and store audit on behalf of the North Cork Enterprise Board. His colleague Celine Cummins delivered the visual merchandising workshop and audit.
Day 1 – Developing aggressive sales growth strategies; Day 2:  – Stra-tegic retail management; Day 3 – Negotiation and developing world class customer service; Day 4: – Visual merchandising and display best practice.
Individual store audit: As retail advisors to the TV programme 'Feargal Quinn' Retail Therapy', James Burke operates in an environment where stores have to be assessed and recommendations made at very short notice. Using checklists and score cards, an in-store audit was conducted by James Burke together with the store owner/manager over a two-hour period. The business was reviewed under a number of headings and the visit was customised to each of the retailers' and their own individual needs.
Visual merchandising audit: Celine Cummins carried out this audit and made an assessment of the overall visual merchand-ising within the store, and a critique of window displays and shop frontage. Celine made suggestions on how to develop a pro-active visual merchandising strategy.
At the presentation of certificates on the final day of the programme, Michael Hanley, Manager said "now more than ever it is important that local retailers explore new ways to bring a fresh approach to their business, which will not only aid them in the long term success but also breathe new life into how they work together for the development of the town of Mallow.