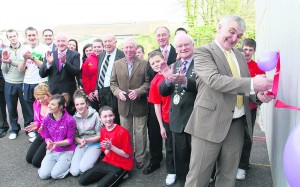 Davis College Mallow hosted the launch of their new state-of-the-art handball facility on Friday last. The launch, which was a resounding success, was conducted by Guest of Honour Mr. Jack Barry, outgoing Deputy Principal. The event was also attended by Irish Handball Youth Development Officer Mr Darragh Daly, who gave a coaching clinic on the day. He was accompanied by a camera crew which is currently filming for the acclaimed 'GAA Handball Show' which has been a feature on TG4 in recent months. They were eager to see the new facility, which consists of five outdoor one-wall handball alleys which are designed to the most modern specifications.  The walls can also be used as hurling walls, as targets and goalposts are incorporated in the design. Also in attendance were Principal, Mr Denis Healy, Deputy Principal Mr. Gerard O'Sullivan, Chairman of the board of management, Mr Noel O'Connor and Chairman of Mallow Handball Club, Mr Patrick Buckley.
The handball/hurling alleys were the brainchild of Jack Barry and reflect the historic role of handball as a Mallow tradition.  The fact that the sport is also one of the fastest growing in Ireland also inspired the initiative. The campaign to raise the sum of €22,000 for the construction of the project involved a lengthy fund-raising initiative, including generous assistance from Gaelscoil Thomaís Dáibhís and overwhelming support from the community in Mallow. Since the construction of the complex, there has been much interest and enthusiasm from both students and staff alike in the sport and there is no doubt that handball will soon be flourishing in Davis College. 
The sport has enjoyed an enhanced profile in the last two years since Ms Ashley Prendeville joined the teaching staff.  A native of Ballymacelligott, Co Kerry, Ashley has enjoyed a glittering career as a handball player and as a coach. She has won seven senior All-Ireland titles in singles and doubles competition and has also coached Irish national teams to great success in international competition, including, most recently, the US Junior National Championships in San Diego, where she guided the Irish team to six titles. The Davis College community looks forward to working with Ashley in the new facility and would like to offer sincere gratitude to all those who made this project such a success. The college looks forward to welcoming future generations of handball stars in the coming years.