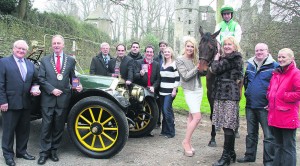 It's all about horsepower at this year's Racing Home for Easter Festival in Mallow, with the addition of a pre 1940s vintage car run and display to the five-day programme of events. The festival, now in its 4th year, centres around the traditional three-day Easter race meeting at Cork Racecourse Mallow which this year will run from March 30th – April 3rd.
Festival chairperson Mary Kelly says it's all part of a bumper weekend in Mallow. "Where else would you find racing, fashion, food and craft fair, vintage cars, pet show, jugglers, music and amusements, river raft run and a 10km family cycle, Mallow is definitely the only place to be this Easter Bank Holiday weekend."
Mary Kelly says the festival is all about showing the best of Mallow. "Easter Saturday sees the first od 3 days of top class racing at Cork Racecourse Mallow, but if that's not your thing, then a family day will be held in the gorgeous surroundings of Mallow Castle. So many people forget that we have such a wonderful building right in the middle of our town and it'll be a secure location for mummies and daddies to relax and let the kids run around enjoying all the activities."
The castle grounds will play host to staged music acts including Shannon Murphy from RTE's The Voice of Ireland, juggling act Johnny D'Juggler, a 20 foot giant crocodile, rock clmbing wall, bungee trampoline, carousel and much more.
Easter Sunday is literally jam-packed. The town centre will be full of delicious smells and aromas as one of the most popular events, the food and craft fair on Main Street makes a welcome return showcasing the very best local artisan produce. The pre 1940's vintage cars will be displayed in Market Square. Organiser Jimmy Bohan says that there has been massive interest in the event. "We'll have over 60 cars coming from all over Ireland, the UK and Europe to add another element of horsepower to what's already one of the best weekends to be in Mallow".
RTE presenter and upcoming designer Brendan Courtney will be on hand to judge Best Dressed Lady and Gent on Easter Sunday, March 31st at Cork Racecourse Mallow, where €1,000 in vouchers for Moda Mallow and €500 for Barry's Menswear will be presented to those deemed most stylish on the day.
Racing Home for Easter is only event in the town to be held under The Gathering 2013 and as such, this year's event has seen a renewed interest in all things Mallow, from literary trails, to writers workshops, a talk on the history of Mallow Castle's famous protected white deer and historical walks discussing the history of Mallow Train Station, Davis St and the Spa area amongst others.
Check out the full programme of events at www.racinghomeforeaster.com on Twitter @mallowfestival or on Facebook.com/Racing Home for Easter.
Festival hosts
volunteer evening
With 3 weeks until the Racing Home for Easter Festival gets underway, the festival committee is looking for more volunteers to help with stewarding, ticket sales and simply providing manpower and support during the event, March 30th to April 1st. The weekly festival meeting will take place today, Thursday in Davis College, Summerhill at 6.30pm. "The majority of the high-traffic events will take place on Easter Saturday, Sunday and Monday", says festival chairperson Mary Kelly. "We're not looking for a huge commitment from anyone, but a few hours here and there would make a huge difference."
The festival committee has a brilliant working relationship with the students of Davis College, with two of the students, Sean Matthews and Lukas Sheahan helping to bring the festival mascot bunnies 'to life' at this week's festival launch.
The committee is always reaching out to all schools in the town and any adults who would be interested in making a contribution to the safe running of the event to get involved.
The sponsorship drive continues apace. One of the latest companies to row in behind this year's event is EPS. Deputy Managing Director Patrick Buckley says, "EPS is delighted to support the Racing Home for Easter Festival Mallow 2013 as we feel it is important to contribute to the economic development of our local community. The festival, which encourages people to visit Mallow, is a fantastic initiative and we are proud to be a part of it".
Denys O'Brien of DK O'Brien Properties is also on board for 2013. "Our business is all about finding the right home for people and the Racing Home for Easter Festival also helps give people a sense of community and belonging in Mallow so we're see a direct link and as such are delighted to be a friend of the festival".
Anyone who would like to contribute to the festival can do so by contacting Mary on 022 50207 or Mallow Chamber on 022 55660.
Festival partners: Fáilte Ireland, Irish Rail, Mallow Town Council, Cork Racecourse Mallow, Mallow/Vale Star newspaper and C103 (media partners), Mallow Chamber, Dairygold, Mallow Publicans, North Cork Enterprise Board, Mallow Primary Healthcare Centre, Knight's Spar and Carry Out, Kostal, Hibernian Hotel, ThermoSafe Brands Europe Ltd, Dano's Centra, Spa Glen, Supermacs and Mallow Late Night Pharmacy.
Friends Of The Festival: Mallow Development Partnership, Blackwater Valley Tourism, ITW Hi-Cone, QiFA Financial, Dermot Casey Tree Care, Art Alliance, Bank of Ireland, O'Connell's Funeral Home, Mc Donalds, EPS Water, Aunty Nellie's Sweet Shop, Longueville House Hotel, Sheehan's Butchers, Springfort Hall Hotel and Café, Tom Barry TD, Minister Seán Sherlock TD, DK O'Brien Properties, Luceys Good Food Shop, The Farm, Grenagh, AIB, O'Flynns Footwear, Jim O'Doherty Auto Parts, Lyons Shoes, Cllr Noel O'Connor, Mallow Golf Club, Apache Pizza, Peppers Restaurant, Food Capers, Park West Flowers, Munster Flooring, Dan Joe Fitzgerald Furniture, Crafted Fitted Furniture, Susan Brennan Head First Hat Hire, Foley's Supermarket, Mallow Golf Club, Profectus Coaching, Country Lifestyle, Mallow Library Staff, Celtic Curtains.