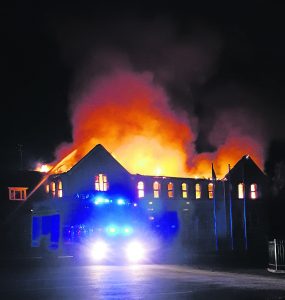 It resembled an inferno when a large block of Mallow's landmark Patrician Academy, an all-boys post-primary school with an enrolment of over 400 pupils, was engulfed in flames in the early hours of Wednesday morning.
The alarm was raised just after 3am when smoke was seen rising from the building  which is located at Fair Street, Mallow. Five units of Cork City and County Fire Service rushed to the scene and fought through the night to bring the blaze under control. Units from Mallow, Charleville and Kanturk attended the incident.
A number of local residents were evacuated and road closures were put in place as the emergency services attended the fire which destroyed a considerable part of the building, some of which dates back to the late 19th century. The building consists of an old monastery and a modern block of classrooms constructed in the 1970s.
The fire caused damage to the administrative block, science labs, technical-drawing rooms, woodwork rooms and computer facilities.
Recently the school has been the subject of capital investment that included the provision of an autism  unit as well as additional classrooms.
Former Minister of State Deputy Seán Sherlock is a past pupil of the school.  "Thankfully no one was injured in this incident at the Patrician Academy," he said. "This is a shock for the town and the school community, but it is one we will get over and move ahead on. Work has already begun on the next steps required with the Department and I have been in contact with the Principal on this to ensure that there is adequate provision for students."
Speaking in the Dáil yesterday, Wednesday, under Topical Issues attended by the Minster for Education and Skills, Richard Bruton, T.D., Deputy Sherlock said: "It is imperative that resources and support mechanisms are now put in place for the school to ensure that adequate accommodation is available for the school community at the start of the new term on 25th Aug-ust. The school community is naturally very taken aback by this incident and it will take time to recover. I am asking the Minister to deploy the resources available to him to ensure that emergency accommo-dation is provided for September so that no student is discommoded, particularly those students who are starting their State Examinations."
Cork East Fine Gael TD and Minister of State at the Department of Justice David Stanton and Sinn Féin TD for Cork East Pat Buckley expressed shock and echoed Deputy Sherlock's call for the provision of adequate accommodation for when the students return in September.
Investigations into the cause of the outbreak are continuing.