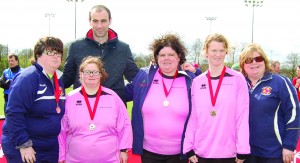 It was raining gold medals for Mallow Special Olympics Football Club last Saturday when they competed in the Munster Regional Cup Competition at CIT. The ladies won gold in the 2nd Division which was a brave effort given that they were one player short for all three matches. 
The men have had much improved results in the 4th Division League this season and played excellent football all day to be rewarded with the 1st place and gold medals in Division 3 of the Cup Competition.
The club trains every Wednesday evening from 6.30-7.30pm in the new sports hall at the Patrician Academy and new players are welcome to join the club, especially ladies.  If interested please contact Julie Dwyer on 086-8599983.