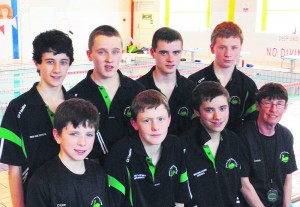 Gus Healy Swimming Pool in Douglas, home to Sundays Well Swimming Club, hosted an 'A' Gala on Saturday last, where our elite group of 'A' swimmers had the opportunity to challenge themselves at Munster level and reap the rewards for the commit-ment of training that they endure week in week out, training 5 days a week and rising every Saturday morning as early as 6am, with some of the squad travelling to Mallow from as far as Newmarket. Mark Walsh, Cadan McCarthy and Sarah Crowley in addition to this also train with the Cork High Performance Group each weekend to bring them to a level where they can compete nationally and internationally, and may have the opportunity to be included in the 2016 Olympics squad.
Having conquered the various levels, from Cygnets, C's and B level, 'A' swimmers are most respected within the club and must be applauded for their drive in constantly demanding more from themselves. Divisional times are the next step within the swimming ranking. Each swimmer has an opportunity to race in 4 different strokes, freestyle (front crawl), breast stroke, backstroke and butterfly, at all various distances from 50 metres to 1500 meters, long course and short course, and can also swim an individual medley which is a combination of the 4 strokes in one race.
Each athlete is only as good as the coach that drives and encourages them and the 'A' squad have that in abundance with Cormac Powell and Deirdre Linehan. Mallow Swans Swimming Club is also privileged to have the use of such a modern and well-kept pool with staff and manager Eoin O'Mahony always encouraging and helpful to the swimmers, coaches and committee members. Our club is to be commended and we are proud of the following swimmers who excelled on Saturday last: Orla Bowen, Kate Reidy, Clare Lynn, Rachel Murphy, Colin O'Keeffe, Tarik Yilmaz, Ruth Curtin, Patricia Hayes, Jed and Lean Duane. Congratulations to each one of you.
Some of the 'A' squad did not attend as they had attained some of these times previously or have commitments to Junior Cert and Leaving Cert exams; Gavin O'Brien, Eoin Kelleher, Cormac O'Hanlon, Donnacha O'Hanlon, Mairead Fuohy, Ella Fuohy, Cadan McCarthy, Sinead O'Reilly, Allana Rankine, Dylan Wallace, Mark Walsh, Gavin O'Brien, Eoin Wallace and Arif Yilmaz.
Mark Walsh, Sarah Crowley and Emmet Crowley are competing in the Irish National Long Course Competition at the National Aquatic Centre in Abbotstown, from today, Thursday 25th to Sunday 28th April; this event will be covered by Setanta Sports. Emmet Crowley continues his ambition to attain the highest level he can achieve personally, and he swims High Performance each week with his college in University of Limerick. We wish all three every success in this prestigious event.