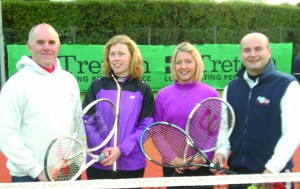 Congratulations to the Division 3 team who won the North Cork League final in Mitchelstown on Saturday December 1st. The team, consisting of Keara O'Leary, Geraldine Behan, Leigh Goodman and David Conway had a convincing victory over their Ballyhooly opponents.
Our best wishes go to the Grade 5 team in their away game against Ardfield/Rathbarry on Sunday afternoon next. This will be the team's third match in the Munster Winter League this year and they will be hoping that they continue their current winning form.
The Tennis Club will be holding their annual festive table quiz in the golf club on Thursday December 13th at 8.30pm. There will be the usual mix of general knowledge, puzzle, picture and audio based rounds and an entertaining night is guaranteed. The entry is €40 per team of four. The Tennis Club relies on people's generous support to ensure that the courts are maintained to as high a standard as possible.
New tennis members are always welcome. Anyone interested in joining should email the club at mallowtennisclub@gmail.com to request an application form.