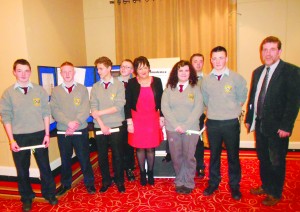 A group of students representing Mannix College were amongst the final eight teams to make it to the Young Entrepreneur of the Year Final at a function hosted at the Charleville Park Hotel last Friday evening.
The eight finalists were interviewed on stage and all participating teams had an opportunity to showcase their business idea at a stand displaying their respective product.
The Young Entrepreneur Programme commenced last September in the three secondary schools in the town with a total of 19 teams from Transition Year and Fifth Year participating.
The Programme was initiated by Referral Partners, a group of business people from the Charleville area whose aim is to foster and develop entrepreneurship among students and give them a taste of what it is like to run a real-life business. Each team was assigned a mentor to direct and assist them.
Teams were required to devise a business idea, carry out market research, complete a business plan and carry out further research and development with the aim of bringing their business idea to fruition. Teams met with three judges in recent weeks and made presentations on their products.
The judges, Martin Condon, Cavanagh's of Charleville, Patsy O'Brien, formerly of Golden Vale / Kerry Group and Belinda Murphy, Business Development Manager, Croom Enterprise Centre are highly esteemed, successful and experienced individuals in the field of business in the locality.
The Mannix College team devised a product called Smokalex. This is a heat, gas leak and carbon monoxide detector system. It can be fitted to the extractor hood of a cooker or can be bought as a stand alone product and fitted to an existing system. Once the system is activated a sensor connected to the power supply automatically works to shut down the power supply at source. Fire extinguishing foam is automatically released to put out any fire that is threatened. The aim of the device is to prevent fires, enhance kitchen safety and ultimately save lives.
The Mannix team discovered from their research that the majority of fires start in the kitchen area of houses, hospitality businesses and establish-ments and their customer base is anybody who has a kitchen! The team hope to manufacture a prototype in the next phase of the project. Following their interview on stage, the judges commended the Mannix team for their idea and initiative and they acknowledged evidence of great team work. They highlighted the passion and enthusiasm of the team and those associated with them. The Mannix team consists of 7 members, Heather Sheehan Corkery, Dean O'Connor, Jamie Hickey, Ronan O'Halloran, Terence Buckley, Rory O'Shaughnessy and Uldis Mailo.
The team are fifth year students and combined their work on this programme with their Leaving Cert studies. The team were supported at the final by their families, fellow students, Mr. Eugene Desmond, Deputy Principal, Mannix College and coordinating teacher Geraldine O'Shea Murphy.
Ms. O'Shea Murphy, speaking on behalf of Mannix College, praised the team for the manner in which they worked with dedication and commitment since last September. She pointed out that every participant in the programme is a winner due to the invaluable learning gained in the experience.
It was highlighted how the students incorporated many subjects into the Programme, Business, Graphics, Maths, English, Information Technology and Woodwork. They experienced the importance of team work, recognising the strengths and weaknesses within a group, meeting deadlines, completing assignments, the importance of research and making presentations. They experienced confidence building and perfected the art of public speaking to a live audience. Students were awakened to the realisation that entrepreneurship is a real career option available to them.
Ms. Murphy pointed out that education is where students "get roots to grow wings" and she encouraged every student to grasp the opportunities at their disposal as they approach their future lives. She encouraged students to have confidence to develop their ideas and that often the journey of a thousand miles begins with a single step! Ms. Murphy stated that it was uplifting to witness such positivity amongst young people and affirmation from those willing to motivate them in the present environment of economic and social challenge.
Great appreciation was expressed to the team mentor, Colum Kellegher who gave his time so willingly and shared his knowledge and expertise so generously. Special mention was also given to Mike Collins and Dónal Mulcahy, Referral Partners for their commitment and input to the Programme. Colum, Mike and Dónal incorporated the Programme into their busy business lives and at no time spared their effort or time when working with the teams. Mike Collins stated the Programme had been a learning experience for all concerned, Dónal Mulcahy, expressed his hope that the Programme would inspire students to consider business as a career option and Maurice Riordan emphasised that attitude and self-belief are key elements to success. All hoped that the Programme had lit a spark of motivation within students. They expressed their thanks to the schools for their receptiveness to the initiative and for their cooperation with the schedule of events.
Participation in the Programme is an experience Mannix College team members will take with them to the future. The team has entered the idea in a competition run in conjunction with U.C.C. and they have recently received confirmation that they have made it to the final in May. Every success to them and well done to each member for their contribution to the development of the product.