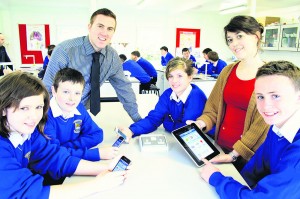 Coláiste Iósaef Kilmallock moved this week to bring news from school into parents and students pockets with the official launch of their school app. Coláiste Iósaef is one of the first schools in Ireland to embrace the world of Smart Phones as a means of connecting with the school community.
Seán Twomey, Principal, explained "the launch of Coláiste Iósaef's school app gives us the opportunity to let parents, students and staff know about the many events happening in the school. It also shows the schools commitment to embrace new technologies and integrate the use of ICT in education. We believe the app will further add to our schools virtual learning environment where comm-unication and collaboration is central to the teaching and learning culture in Coláiste Iósaef."
The Kilmallock school has teamed up with Schoolshare to create the school app. Schoolshare is a wholly Irish owned recent start-up company which has devel-oped the smartphone app to enable schools to share news and events using the unlimited messaging power of their software. "We looked for a number of partner schools to launch with, schools which were IT advanced and forward thinking, Mr. Twomey and the staff of Coláiste Iósaef have worked closely with us in fine tuning elements of the smartphone app," a spokesperson explained.
The Schoolshare app allows current, prospective and past parents and students to stay connected with all activities and achievements both inside and outside the classroom. In addition, given the financial con-straints experienced by schools today, the school app is a cost saving meas-ure. The app is free to download and it reduces school expenditure on printing and posting by making the most of its unlimited message service. "This will allow us to keep parents and students informed about everything from match results or training times to homework assignments."