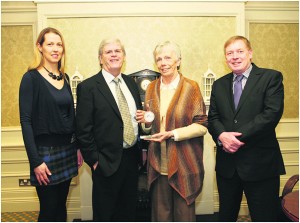 Joan Hamilton of Slí Eile in North Cork has been named Cork Person of the Month for her unique work and treatment of those suffering with mental health issues. Joan's approach is based on the belief that people have the capacity to recover their mental health, and that given support, under-standing and time, they will discover their own way forward to a new and better quality of life.
"The Slí Eile approach is about recovery through community living by creating an environment which instils belief that change is possible," says Joan.
Slí Eile (Another Way) provides housing and support services for people caught up in the revolving door of the psychiatric system. The residents at Slí Eile in Dromina get involved in farming and baking for sale locally. The community farm gives meaningful occupation, looking after animals, horticulture and many such outdoor jobs.
"I hope this award further promotes our recovery-focused living environment for people experiencing mental health difficulties," added Joan Hamilton.