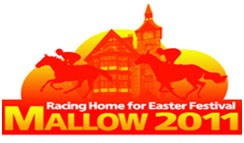 Thank you.
Two simple words that I want to start this message by saying to everyone and each business or organisation which gave so generously financially, or of their time over the last 4 months and over the festival weekend to ensure that the Racing Home for Easter Festival 2012 was a huge success for our town.
The Racing Home for Easter Festival quite simply could not happen without the vital support of our local businesses, Mallow Town Council, Cork County Council, Avondhu/Blackwater Partnership, Mallow Chamber and Fáilte Ireland. The festival is just one way of highlighting our town and putting the spotlight firmly on Mallow for a few short days.
Outside of putting financial figures on the boost it provides, it brings people to Mallow, positive press and publicity attention to our town and shows that there is something happening in the North of the county, providing great value for families in Mallow, Cork and around the country.
The festival brings the best out of people, gives the town a focus in the early months of the year and the community spirit it engenders is brilliant to see. We have said that we want to put Mallow on the map and we have done that. We had journalists from Germany and bloggers doing tours of all the festivals countrywide and they gave our event massive thumbs up. These are independent people who can see what we, close to the event, sometimes cannot.
We have to be positive, the festival is essentially run by a very small number of people who give their time and commitment for months in advance to organising the events, liaising with local authorities and organ-isations, reaching out to businesses for financial support and most of all, being hands on in the lead up to and over the weekend to doing many small things that ensure a festival of this size runs smoothly.
We have heard some fantastic stories regarding occupancy rates, extra business through the doors and a general good feeling around the town. This is exactly what we wanted to create. We want people to feel lifted, to have something to look forward to, to tell their customers about and of course, convert that into a financial boost if possible.
Speaking as Chamber President, we feel that embarking on a special discount week or weekend to coincide with next year's event is something we really want to examine. Some businesses took it upon themselves to run mini-sale or special offers over the weekend, which we promoted online and via social media and they were very happy with the response. We, then, under the Chamber umbrella, can push this as part of our marketing and PR drive which was hugely successful this year. Together, we can be stronger and by working together, we can help each other and our town as a whole.
I once again invite, as we do every year, any new members to join the committee for 2013, air your views and make sure that you make an active contribution to our next festival. You will have an opportunity to do this in the next few days by participating in the survey that will be distributed in the next few days, feedback is essential and would be very welcome.
Overall, we are delighted with the response by the public to the events over the 3 days of events, racing was a huge success, especially on Ladies Day on Easter Sunday, Macnas brought a spectacular show to a spectacular venue, Mallow Castle, There were queues for the street entertainment on Easter Saturday and there was something for those of all ages. Hundreds of people turned out to enjoy the delicious smells and tastes on display during the Food and Craft Fair which was an enormous success and the rain did not dispel up to 400 families taking on the 10km family fun cycle.
I offer my sincere thanks to the hard working and dedicated festival committee, students of Davis College, St Mary's and Patrician Academy who are the committee members of the future, all our sponsors, (listed below) and we are already looking forward to next year's festival, March 30th, 31st and April 1st 2013.
FESTIVAL PARTNERS TO DATE:
Cork County Council, Mallow Town Council, Fáilte Ireland, Irish Rail, Cork Racecourse Mallow, Mallow Star/Vale Star, C103, Dairygold, Avondhu/Blackwater Partnership Ltd, Hibernian Hotel, Mallow Vintners, Luna Bella Boutique, TR Southern Fasteners, Mallow Print, Fitzpatrick's Jewellers, Knight's Spar, Carry Out off licence and Amber Oil and the Mallow Primary Healthcare Centre.
FESTIVAL FRIENDS Mallow Chamber, Thermosafe Brands Europe Ltd, McDonalds, Aunty Nellie's Sweet Shop, Dano's Centra, Mallow Credit Union, North Cork Enterprise Board, Blackwater Valley Tourism, ITW Hi-Cone, Kostal, Bank of Ireland, AIB, Country Lifestyle , Dermot Casey Tree Care and Tool Hire, Luceys Good Food Shop, Longueville House Hotel, Park West Flowers, EPS Ltd, Padre Pio Nursing Home, QiFA Financial, Springfort Hall Hotel and Springfort Hall Shop and Cafe, Supermacs, Crafted Fitted Furniture, Kiely's Car Sales, O'Connell's Funeral Home, Mallow Development Partnership, Mallow Art Alliance, RAPID, Lyons Shoe Shop, Barry's Tools, Stunners Hair Salon, Susan Brennan/Head First Hat Hire, Spiralli Business Solutions, Foley's Supermarket, Pro-fectus Coaching, Ballyhass Lakes, Apache Pizza, Food Capers, Peppers Restaurant, La Scala Italian Restaurant, Bella Café Restaurant, Minister Sean Sherlock, Tom Barry TD, Mallow Golf Club, Hidden Hearing, O'Flynn's Footwear, Barry's Tools, Little Rascals, An Excellent Choice caterers, Mallow Late Night Pharmacy, Cork Advertiser, Mc Hugh Insulation and Munster Flooring.