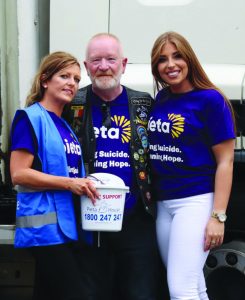 What more would you want of a Saturday, beautiful weather, up to 400 fabulous motorbikes, lovely tunes and a gathering of like-minded people and that's what we had on the street in Buttevant last Saturday 6th of August for the 10th Mick O'Regan Memorial Motorcycle Run 2022. What an atmosphere all 4 created and all part of a fund-raising event for Pieta. We would sincerely like to thank everyone who gave up their time to come along and support and help us raise badly needed funds for Pieta. It was a pleasure to head off out on a 150km spin on some lovely country roads with a very well behaved group of bikers. We would like to thank Kit Roches bar, Brian Murray and his band, Mallow, Fermoy, Mitchelstown, Kilmallock and Charleville fire services, An Garda Siochana, ladies who did the catering and sign in, motorcycle and foot marshals, bucket collectors who all did a fabulous job and every biker who came to Buttevant on Saturday, all our sponsors and everyone who generously donated.
We are very grateful and without all of you it would not be possible for us to run this yearly fundraiser. Congratulations to Sophie Flaherty from Mallow on winning the beautiful Bell Protint helmet on the sign in sheets. Also the other 19 lucky winners on the draw sheets on return to the barbecue.
Congratulations to Killian Cremin from Cork on winning the trophy for the best turned out bike with his beautiful 1989 Honda VFR 400. Thanking you all for your continued support looking forward to seeing you all again soon.