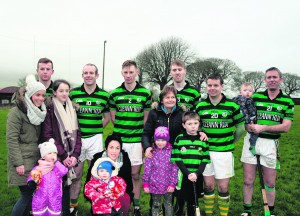 For Carlow man Mike Murphy, a trip back to Glenroe and Ballylanders over the festive season revived some very fond and nostalgic memories.
It is a journey that Murphy has made many times since he and his brother Seamus better known as Shem left their native Carlow in the late 1960s and arrived in Glenroe with their well drilling business.
Shem was never to return to his native county and settled in Ballylanders until his untimely death on 19th January 2013 while Mike after over two decades in the area returned to his native county but never lost touch and contact with the area.
The Murphys quickly became an integral part of the Glenroe and Bally-landers G.A.A. clubs and were huge figures in Glenroe's glorious hurling run in the 1970s when the club appeared in four county finals in a row, the junior final of 1974 which saw the first adult county title come to the club and the unsuccessful intermediate finals of 1975, 76 and 77. Shem was the goalkeeper while Mike was at the other end of the pitch terrorising defences chalking up huge scores year after year in the team's glorious run.
The family have been touched with cancer and sadness in recent years with the death of Shem in 2013 followed by the deaths of his sisters Hannah and Rose in 2015.
On 27th December Mike brought back a team for a charity game in Ballylanders to play Glenroe in hurling and Ballylanders in football to raise money for two very worthy charities. It was a team with a difference in that it comprised totally of members of the Murphy families, Mike's sons, Shem's' three sons and mainly all first cousins.
The Murphy family team was powered by players from Mount Leinster Rangers who contested the 2014 All-Ireland Senior Clubs final, in which they went down to Portumna.
The Rangers players included Mike's two sons, Denis who was the team's leading scorer in that campaign and Jack, the four Coady brothers Edward, John, Paul and Richard, the Hickey brothers James and William, David and Dean Grennan and Kevin McDonald, all of whom have represented Carlow at different levels.
The Murphys' team also included cousins Martin, Jack and Chris Kavanagh from the Mullins club, Edmund Sphruhans from Naomh Eoin, Andy Butler from Wexford club Glynn Barntown and the Bolger brothers from current Kilkenny champions, Chris is a current member of Brian Cody's Kilkenny senior squad and Paddy. Not forgetting of course the three locals, the Murphy brothers, sons of Shem who joined the family ranks for the day, Danny, a Munster and All-Ireland intermediate medal winner with Limerick in 1998, former Limerick footballer and now well-known intercounty referee Johnny and Ballylanders 2014 county senior football winning captain, Jimmy Barry.
After a keenly contested 45 minutes of hurling, refereed by well-known whistle man Mike Meade, it ended honours even 2-11 each and then followed a football game of about 20 minutes duration after which the hosts shaded it 4-1 to 2-2.
After the action the attention switched to the Glenroe G.A.A. complex for food and refreshments before returning to Ballylanders to resume the festive cele-brations in local hostelries.
In the end two worthy causes Milford Hospice and Éist Cancer Support Centre, Carlow divided the proceeds of the day which amounted to €1,100.