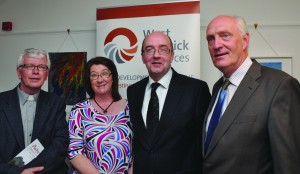 Jimmy Deenihan, Minister for Arts, Heritage and the Gaeltacht, launched "Askeaton: The Medieval Town – A Visitors Guide" on Friday night at the Askeaton Tourist Office.
Grant aided by West Limerick Resources under the Rural Development Programme, the concise fifty page full colour booklet is the first publication produced by Sliabh Luachra Historical Society which was established in June 2012 to promote, research and record the history, heritage and landscape of West Limerick and North Kerry. The A5 booklet, which was written by group member Gerard Curtin, who has previously written five local history books, records and preserves for posterity information on the history, archaeology and architecture of medieval Askeaton. 
Askeaton is a town rich in history and heritage and the Sliabh Luachra Historical Society have stated that they are trying to make local history accessible by providing a brief history of each of the key sites and of the town itself allowing a visitor to conduct an informed self-guided tour of the many interesting features to be found locally. Combining easy to understand descriptions interspersed with sketches, drawings and paintings as well as a centre page map of present day Askeaton, it provides a very accessible publication of interest to a wide variety of readers and is a timely publication given the fact that the Askeaton Tourist Office will be 20 years in operation this year.
The booklet will be sold in retail outlets locally with profits being reinvested into the Historical Society for future projects.