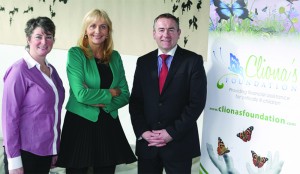 A remarkable Irish charity providing financial assistance to critically ill children – Cliona's Foundation – has announced that TV presenter Miriam O'Callaghan is to become its first ever patron. Founded in 2007 by Brendan and Terry Ring in honour of their daughter Cliona, who died of an inoperable brain tumour, Cliona's Foundation has raised in excess of €300,000, already helping more than 100 families across Ireland. 
Speaking about Miriam O'Callaghan becoming Cliona's Foundation's first patron, Brendan Ring co-founder said: "Miriam O'Callaghan is a powerful advocate for Cliona's Foundation. She is a highly regarded public figure, in touch with and supporting numerous charitable causes and therefore fully recognises the plight of the families that Cliona's Foundation wants to support.  We are thrilled to have her name associated with our charity as we journey to raise national awareness and more funds to help reach out to families desperately in need of financial assistance."
The scope of work carried out by Cliona's Foun-dation's is one-of-a-kind.  While many charities focus on children's illnesses and their welfare, Cliona's Foundation uniquely provides financial help with non-medical costs.  These can amount to significant sums as Brendan and Terry know very well.  Over the years, as Cliona underwent numerous hospital treatments for her brain tumour, the couple were struck by the number of families facing enormous financial hardship.  Blind-sided by all the non-medical expenses associated with a sick child, they saw at first hand the enormous toll and additional stress it took on families, already struggling with the nightmare of having a seriously ill child. Following Cliona's tragic death, they turned their tragedy into positive action and started fundraising to help those less fortunate families.
Speaking about becoming the charity's first patron, Miriam O'Callaghan said: "I am genuinely touched by the work that Cliona's Foundation undertakes and very pleased to be the charity's first patron.  Brendan and Terry are a genuinely inspiring couple who have turned their personal tragedy into making a difference to families who have a sick child by helping to ease the financial burden, during what must be an enor-mously traumatic and stressful time."
If you'd like to learn more about Cliona's Foundation, donate or apply for financial assistance please visit www.clionas foundation.com.