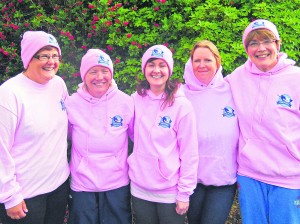 Did you know that mermaids really exist? The Munster Mermaids are a 5-women relay team who plan to swim the English Channel from the U.K. to France on Saturday, August 2nd, comprising three swimmers from Mallow Masters Swimming Club, Maura O'Callaghan, Grace O'Callaghan and Sandra Howard, and two from Sandycove Island Swimming Club, Maeve Mulcahy and Anna Marie Mullally. All five are keen open-water swimmers and have been sea training near Kinsale since the end of April.
They have completed two-hour qualifying swims in the sea, and are adapting well to the conditions. They have also trained in darkness.
The ladies/mermaids will swim according to Channel rules, wearing only togs, hat and goggles, and will swim for one hour in rotation until they reach the French coast.
You can follow their progress on Facebook/ Munster Mermaids. The team are undertaking the challenge at their own expense and any money raised through sponsorship will go to the Children's Medical and Research Foundation, Our Lady's Children's Hospital, Crumlin. To donate, see Facebook/Munster Mermaids and click on the link.