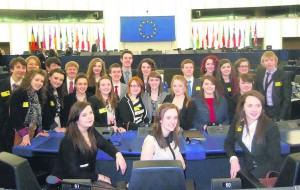 During the February mid-term I took part in the Rotary Ireland Youth Leadership Programme. Along with 24 other young adults from all over Ireland I visited Stormont, the Northern Ireland Assembly in Belfast, Dáil Eireann in Dublin and the EU Parliament in Strasbourg, France. We also visited the EU office in Belfast and the European Parliament office in Dublin to prepare us for our trip to Strasbourg. During our weeklong adventure we rubbed shoulders with various politicians and party leaders. We were given tours of Stormont, Leinster House and the EU Parliament in Strasbourg, which were the most impressive buildings I've ever entered. We had many question and answer sessions with TDs, Senators and MLAs. We met Simon Harris, the youngest serving TD, and a former winner of the Rotary Youth Leadership competition. He proved to be an inspiration to us all. We were lucky enough to witness politics in the flesh with both Stormont and The Dáil in session on the days of our presence. Our luck continued to allow us to have afternoon tea with An Taoiseach, Enda Kenny; my personal highlight.
There was some hard work involved on our trip; it wasn't all fun and games. We each had to propose a resolution to EU law under certain topics e.g. – Security and Justice, Sustainable Development, Democracy. This brainstorming was all in preparation for the climax of the trip – Euroscola Day. This is a day in which the EU Parliament is opened up to some 700 European youths to 'take the floor' and debate researched topics. We were honoured to be the Irish delegation and to represent our country. We sat in the MEP's seats in the Hemisphere in the company of a Maltese MEP. We each wore headsets to hear translators convert the language being spoken into various European languages. We had our say and once a resolution was given to the house, it was up to our peers to pass/reject the proposed solution. Luckily my team's resolution was emphatically supported. Although tiresome (4 countries in 6 days) this trip was a once in a lifetime experience. I feel fortunate to have met such fascinating opinionated people with a lot to say. I learned so much about local and national politics, politics and struggles in Northern Ireland, Ireland's role within the EU and indeed the benefits of being a member state of such a prestigious and unique body.
I'd like to thank everybody who made this enlightening trip a possibility.